Hello guys,
I am writing this entry since I received some comments on regards the shipping rates and I wanted to give more detailed info on these as well as explain when purchasing simulateneously items under the manufacturer name Rocast Models and Rocast-Digidecals.
Before I forget this, at the moment all the livery decals are out of stock as Rob is in the middle of moving and won't be able to print/ship those decals for a few weeks, so in the meantime he is establishing in the new place, I will go on designing a few more decal liveries 🙂
The store is set so that Rocast Models items use a specific shipping carrier (shiped from Spain) and the Rocast-Digidecals, that is, the livery decals, use a different carrier (shiped from Australia).
Now some of you may wonder why ship from two different countries, the reason is that Rob, at Wessex Transfers, is the printing company that actually prints and ships the artworks I make.
So you may have noticed that shipping rates increase when ordering both item manufacturers simultaneously, this makes sense as there are two shipments involved.
I want to take this chance and point out that Australia Post prices have a very different range, for instance (and all these I mention are for documents-letters); economy air is as cheap as 2 Euro, naturally this shipping method does not have tracking number. The next in line is Registered post, which does not have much of registered since it also does not offer tracking number although its price is quite reasonable 10,16 Euro, as far as delivery times is about the same as economy from my experience.
That only leaves us with the third and only option if we want tracking number… that is, Express post which costs the quite expensive ammount of about 30 Euro (all the price examples are based on shipments Australia-Spain).
Rob and I spent quite some time thinking which was the best shipping method we could offer, naturally we wanted the cheapest but the safest. During all the period we have been working on the decals, Rob sent me samples to do some tests and in the meantime we calculated shipping times and to be completely honest, the idea of shipping something as important as these decals without any way to follow them through the way, inmediately made us think that we must offer a shipping with a tracking number so that customer can be totally sure to follow his/her order at any time.
Having seen the prices above, which are for letter shipments, we started to take a look at the shipping as parcel. What we found was that their standard shipping did offer tracking number and its price was much cheaper than the 30 Euros of the Letter Express post, Standard shipping costs about 18 Euro.
And so we decided that this one was the best option. Why didn't we offer the cheapest 2 Euro shipping? Simply because we wanted to avoid the annoyance for the customer not knowing where the decals are and when they would arrive, we would not have that information neither, in the end we did not offer the non-tracking shipments to avoid such problems and because we thought weren't just right for the customer.
Why not ship all those decals to Spain to offer better shiping rates? Simply because it is an investment I can't take, I can order let's say two sets of each livery decal, that is an investment for which I have no warranties will become a loss, as I don't know for how long will the decals remain on the shelf. We are taking this business with the idea of having an extended catalogue with the time, and thus having physical stock of all the decals would be impossible. I also must take into consideration Rob's investment in materials and time, that is the reason why we will offer those decals on demand.
Does that mean the decals will always be out of stock? No, decals will always be available but they will just require a maximum preparation time of five days for decal printing/drying/packaging, and that is just being safe, because Rob gives priority to these decals, they are always shiped very quickly.
I want to confirm that we do not shoot the prices up for the shipping rates, I am lucky enough to have the postal office near and can go by foot, but Rob needs to drive there and there are gas expenses as you may understand, but this is included and at a very tiny ammount, in the shipping price.
Chosing the best shipping methods did give us a hard time, but in the end we chose what we thought was right.
The decal liveries is a new business under the brand Rocast-Digidecals and Rob and I go 50/50, so the price for the decals is not all what I get or all what Rob gets, but we have to divide, to have profit for the printing service/expensive materials/time and for the long hours I spend designing those artworks.
Printing decals is not as easy as we print a document at home, Rob can spend hours printing a decal set, and sometimes adjustments are needed, so when you hold a piece of decal on your hands, you can think that there have been many hours behind it, from me searching for detail references to Rob fine tuning his printer.
Now let's take a look at these two scenarios: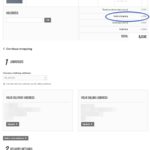 The WiFi radome was added to the cart, with a shipping cost of 5,30 Euro. If we scroll below, there is only one single carrier "Correos" as this item is shiped from Spain.
Second case scenario: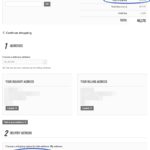 A livery decal was added, now you can see the shipping price has increased, but not because the decals are made out of stone, but because that is the sum of both shipments, as you can see the two carrier logos, Correos and Australia Post.
If we subtract 5,30 to 24,07 Euros, we will find that the decal shipping cost is 18,77 Euros (this example above is using Spain as guide for the shipping rates).
As a matter of fact, when ordering both items from both manufacturers, the order is splitted into two invoices, and then there you can see the breakdown of the order.
I really hope all this makes sense, there were times like when having to chose a proper shipping method, where I thought we weren't gonna make it… but in the end we chose from heart what we thought was best for the customers, because we did our bests of efforts to make these decals a reality, we also thought to give the best shipping methods available for you.
I hope this explain a bit more about that part of the store and the decals.
Thank you all for your reading time!
Best wishes,
Guillem