Shipping information (updated September 23rd 2019)
The following information has been updated due changes that the national post office has carried in one of the shipping methods that were used in the past, thus new information is

important

to read.
 1- Where do we ship?
We currently cover most part of the globe, however, we currently cannot ship to the following countries:
Aland Islands, Antarctica, Bouvet Island, British Indian Ocean territory, Burma (Myanmar), Christmas Island, Cocos (Keeling) Island, East Timor, Falkland Islands,  French Southern Territories, Heard Island and McDonald Island, Libya, Northern Mariana Islands, Philippines, Pitcairn, Saint Barthelemy, South Georgia and the South Sandwich Islands, Svalbard and Jan Mayen, Western and Sahara.
Were you located in one of these countries, please contact us and we will find the way to ship to you as best as possible. However, we are not responsible for the delays that may be caused by your country local's postal services neither offer a re shipment in case the shipment is lost. A partial refund of the 50% will be provided.
2- How is the shipping preparation process?
Every order has a

maximum preparation period of three days

, if an order is placed on Saturday or Sunday it will then be expedited on Monday (if placed on Saturday) and Tuesday (if placed on Sunday). If the order is placed on holiday, it will be dispatched the next working day.
All the shipments will be provided with Tracking Number
which will be sent via email to the customer and also will be available from the order page login into your account. All orders are shipped from Spain.
Once the tracking information shows "Dispatch from the point of origin international office" it is in hands of your local post service to be delivered to you and it is your local's postal services duty to update the tracking information accordingly.
3- Shipping rates.
Shipping rates vary and are calculated according to your order's total weight. However you can review the shipping cost after adding a product to the cart. Removing or adding products to the cart will result in an automatic shipping calculation as weight varies depending on the total shopping cart's weight.
4- How do we ship your goods?
We mainly offer two shipping methods:
Paq Light International and certified letter (for decals only), both trackeable.
Some countries do not accept the "Light International" type, so in such case the method of shipping will be "International Economy" (with tracking number as well).
All orders except decals (solely) will be shipped as "package".
This means that the shipping has a prioritized character by the postal services offering more competitive delivery times. Because of the "package" shipping method, dimensional weight calculations are involved, therefore and to save you shipping costs, extra packaging is offered to occupy as less space as possible according to your cart's item quantities.
We are currently shipping using six different packaging types: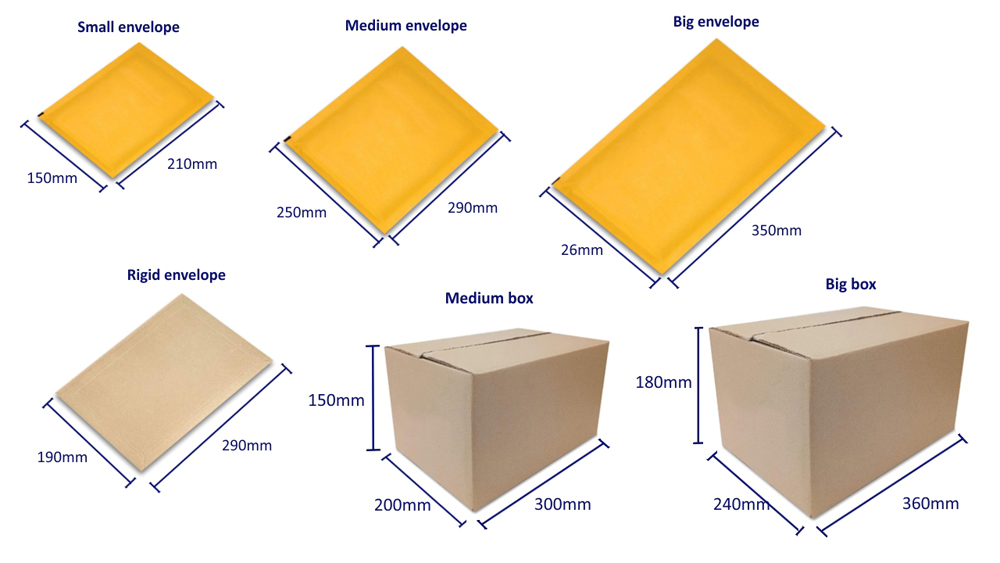 All envelopes are padded and items are covered by bubble wrap as well.
Item parts are currently packaged with two types of blisters; small and big.
For small blisters items are:

most detail parts, engine sets, photo etched sets, small to medium GSE model kits.
For bigger blisters items are:

bigger GSE model kits.
Small envelope: It will be available at the checkout for a single (small) blister, examples are; most detail parts, engine sets, photo etched sets, small to medium GSE models.
Medium envelope: Similar as the "small envelope" but can actually carry two small blisters.
Big envelope: Similar as "small envelope" but can actually carry up to three small blisters. It can also carry one big blister (for bigger GSE items).
Rigid envelope:

For decals only

and up to four decal sets, "rigid envelope" and when only decals (up to four sets) are ordered, it will be shipped as "document" with the "certified letter" shipping method (including tracking).
Medium box: From 3 to 12 small blisters, from 1 to 4 big blisters.
Big box: Up to 2kg maximum capacity.
When ordering a mix of decals and other items, all the above options except "rigid envelope" will be offered.
5- Delivery times:
Delivery times may vary depending on the time of the year, if there are national holidays within your country, and also depending on the work load of your postal services or of the exchange offices.
For reference and from the official national postal service "Correos" website, these are an estimate for delivery times (working days).
For Paq Light International orders:
Europe: 3-5 days
Russia: 9 days
America: 5-8 days
Asia: 6-8 days
For Paq Economy International orders:
Europe: 8-10 days
Rest of the World: 10-20 days
For Certified letter orders:
Europe: 5-15 days
Rest of the World: 12-20 days
(All above are working days).
Important:

Depending on where are you located at, you will either have Paq Light International or Economy International, but never both types at the same time, the reason is:
Not all countries allow for the Paq Light shipping method, thus depending from where you purchase, you will find one option or the other.
For certified letters (rigid envelope up to four decal sets) it is a Worldwide shipping method.
Please be extremely careful when opening bags with this label:
6- Returns:
We do not accept returns or refunds in case the item does not meet your expectations. Reason being that all the items at the store have several photos of what is included in the set, and what you see is what you will receive.
However we do ship your order again if officially lost by the postal service (it has a tracking number thus it must be traceable in all cases). Officially meaning that your postal service can officially confirm or declare that the order is lost as well as the confirmation from our local postal services. In such cases the customer will only have to pay half of the total shipping expenses for the shipping of the order replace.
C

ustomer will never be left without the order
, in the improbable case of a lost order, we will cooperate together whenever necessary and ship a replacement in short notice.
All the shippings are marked as "return to sender" if they cannot be delivered for some reason, thus the chance of an order to get lost is minimal.
We do not reship an order if this has arrived with a broken (not loose from the resin base in the rare case) part. All the items are passed through a visual verification and packaged inside three packages; first the sealing bag with a foam sheet, then the transparent plastic blister, and latter the shipping carton box or envelope with bubble wrap, making it basically impossible that any resin part can break specially due their tiny sizes.
If an order has been returned to us, we will proceed to contact the customer inmediately. Depending on the reason of the return, we will either offer a product refund or offer an invoice with only the shipping costs through PayPal to re ship the order again.
7- Customs:
It is not likely to happen, but there may be the small chance for your order to be retained at customs and further actions need to be taken. Custom charges are not included in the price and totals of the store, therefore the client must deal with the customs costs of their country in order to have the order delivered.
It is important to know that all orders have a "Customs declaration form" fulfilled in order to accelerate shipping times and ease on inspections carried during the shipping process. All orders are declared as "model parts - toy" or "documents" in case of the decals.
8- Special information for deliveries to Germany:
It has been informed to us of the problems that the German postal service sometimes has. For this reason we emphasize the customer to please check regularly the tracking information.
As we saw from reports, in some cases the orders are in the delivery process but fail to be delivered for a particular reason being one of them the customer not being notified and let a notice to pick the parcel up at the local office.

Please, do not wait for a long time if you see that the package is on the way to be delivered, if it is not delivered in short time after the "on delivery" status, please attend to your local postal office with the tracking number.

If the customer waits for too long time to contact or ask where the order is, order may be returned to us by German postal services as "package unclaimed".
In case of a returned order, customer will have to pay the shipment again or chose to get a refund (of the purchased items) only if the order has been returned to us.
In case of an order not being returned and proven by the tracking information to be attempted to be delivered, a maximum time of 40 days will be required to wait for the returning order. If passed this period the order has not been returned, in this case we will refund the total of the order.
If you have any question on this regard, please feel free to contact us at any time.
If you have any question about the site or your order, please do feel free to contact us at rocast(at)rocastmodels.com
Thank you very much for your support and cooperation!
Guillem - Rocast Models.