Dear all,
This is the first entry of the year for me, and I wanted to take the opportunity to overview a bit which will be the main path for the next twelve months.
I hope you had a very nice start of the year, for me unfortunately it has been a bit bumpy, having to deal with personal difficulties that add to my stress and mood as well as trying to overcome problems with my work, but I guess this is probably something that has also happened to you before and something we often go through.
I have taken the last few weeks to remodel my workplace and modify some of the tools that I have for the production of the resin parts as well as the photo etched parts. Changes that could bring me a not so exposed-to chemical environment as well as a more practical workflow.
I am currently struggling with the temperatures, my printers do not work well at 20ºC – 68F and thus recently I had to throw away hours of work and material.
Changing them from place is not an option, so I am looking at methods to keep the room warmer within the possibilities of the room which is located at the top part of the house.
A powerful electric stove is currently being used, but that cannot be the ultimate remedy due the increase in the costs of electricity (which keeps rising) and thus I am studying a modification for the printers to keep their chambers (and the resin) at a more stable and warmer temperature, that means a PTC heater controlled by a digital thermostat.
That is a part of what I am dealing with to solve issues, another part is to adjust settings so that delicate things could actually get built without issues. This has to do with the speed at which a part of the printer moves, slowing it down reduces the risk, but also increases the time of production significantly, an extra hour to the usual time with the lowest settings I am trying, may be able to reduce time a bit if results are fine at the lowest setting.
20º-68F is not very cold for us humans, but now that we have colder temps, it is making this delicate work very much difficult to accomplish sometimes.
Before I depress you with more of my waffling, I would like to inform you that the restocking of the new towbar pushbacks, towbars and catering trucks will be in about a couple weeks, as I am trying to finalize their packaging and their PE parts. If temperatures permit, will also make a few more units for the pushbacks. Will say a restocking date in just a few days.
Work has also started with the production of the next group, which will include the Belt loader TUG660, the AST-1 pushback, the FMC15i loader and the TLD ABS1740 stairs truck. Going by groups will be my choice at the moment, because that is how I want to restock items, since several are out of stock, then I want these to be at the same time back in stock, so that customers who may wish to purchase another item, they can have the chance to do so and not to wait for another restocking date/shipping fee.
The quick overview for the next 12 months:
I have learned many new techniques that are allowing me to make more intricate and shape-complex work, thus there is in the works a comprehensive 1/144 antennae pack with several ELT's, VHF's, ADF's, ADS's, TCAS II, Satcoms, UHF's, Glideslopes, marker beacons and GPS antennas (pitot tubes also on my list).
Also, in the works (and pretty much advanced at this moment and tested successfully) the B747-400 wingtip with winglets, may also do a wingtip with the HF antenna for the -100/-200/-300 variants. Other sharklets to be produced will be for the A320/A321 and A350-900.
These were done in the past, but the new techniques I learned allows me to make them this time with engraved lines.
These are little projects that I will be working on and possibly several other more as I progress alongside the "big" projects for this year.
My two center pillar projects for this year are going to be:
B747-8F/-400F cargo deck detail set, as you may have read before, it will be a full open cargo operation scenario, nose door, side cargo door, cargo hold doors, everything open (well, probably except the bulk cargo door) and surely L1 door will be open as well. Detail of the main deck as well as the cargo holds.
This will be produced for the Revell B747-8i and B747-8F kits as well as for the Zvezda B747-8i kit.
On the way, and picking up where I left with the B747-400 winglets, I will also be working on conversion parts to produce the -400 model from the -8 model kits, that means the -400 engines and some other details, if that comes out well, I may work on the classic engines as well, and a modification of the wingbody fairing for them which is different than the -400 model.
1/12 B737 cabin project, what can I say about it? It will basically be the whole B737 cabin in 1/12 scale from the start of the sidewalls onward. Not saying it will be completed this year, but it will now be a regular project I will be working on.
There are some other "smaller" projects that I would like to make on the way and probably to have a bit of a change and fresh air from the big two projects, some of these will be the Komatsu towbar pushabcks, pushback personnel as well as some more crew stuff.
The upcoming releases will be the B787-9 cargo holds, both forward and rear as well as the F396 pushback model that I previewed on the last entry. The F70 is also in the plans and will be started soon. I am hoping to release these new items soon. I mentioned in the past that it would be at the end of the month, but I need to first figure out the solution for these cold temperatures and see if adjusting the settings will definitely be of help. Fortunately issues happen only in certain parts and not all of them, so that should not prevent me from releasing these new models soon.
Things sometimes seem quite easy, but more often than not, they aren't. The AST-1 body mold gave up the other day, so I need to make a new mold for it. There is always things that get in the way, but little by little these will be overcomed, it's part of the work.
These are my main focuses for the year, but there is also another project that may take me longer and that I haven't mentioned before yet.
As you know, some time ago I had my silk screen detail decals printed by a company (For the A320/A321 family as well as for the A350-900/-1000). There is a reason for the delay of their release besides the work on the illustrations/instructions, and that is that I am also working on my silk screening setup.
Having seen those silk screened decals has increased the interest in me, that perhaps some liveries could be made in silk screen and so I am trying to do this myself, which in a way a part of the process does not differ much than of the photo etched process, in fact, you need to expose to UV everytime you make PE, but you expose only once with silk screening for every color (until the design cannot be used anymore after a long time).
That is all I can say about it, because I am not even sure I will be able to produce such type of decals, if I can't, that would lead me to switch back to laser/livery and silk screen/details, which will be the case for some liveries, but some others I would very much wish to have them silk screened.
This I kind of leave it as my "outside of work" hobby, because it will probably take me quite a lot to be able to produce them, if I ever can.
Last but not least, I want to share some photos that arrived to me from my fellow modeler friends. I have to say that it brightens my day everytime I see these models I dedicated so much time to, to be painted/assembled and portrayed by friends and modelers from different parts of the world.
For such, I dedicated a new category in the blog, where I will be adding more photos and galleries from anyone of you who wants to share their work with the rest of us.

This is a diorama my friend Miroslav from Czech Republic is working on: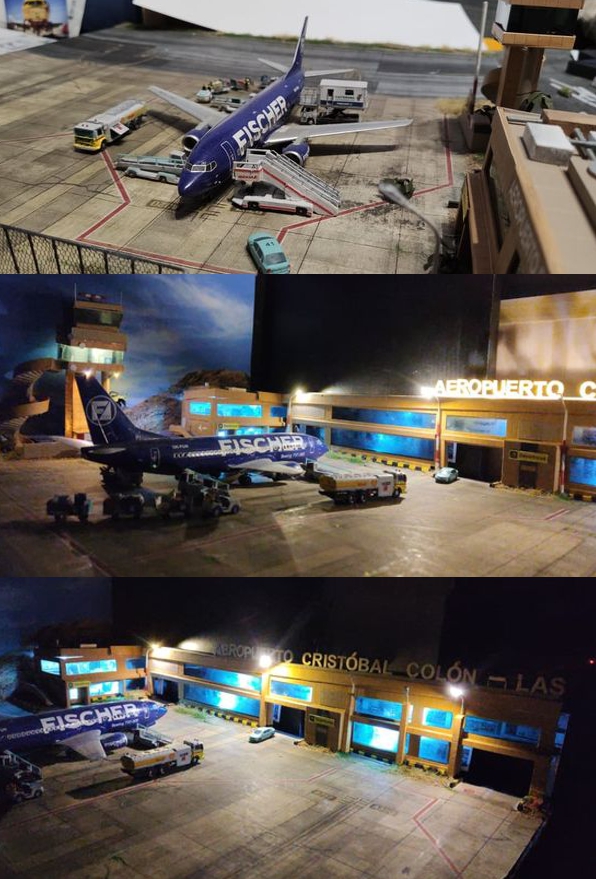 Another ramp from India, this time in 1/200, of my friend Shivam: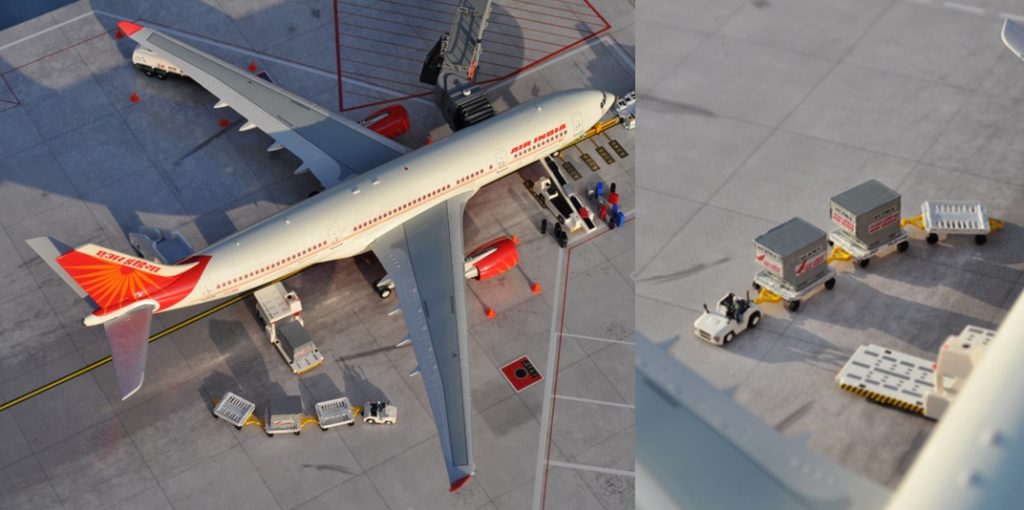 Lastly, a ramp from France, of my friend Ludovic, who is currently working on this project: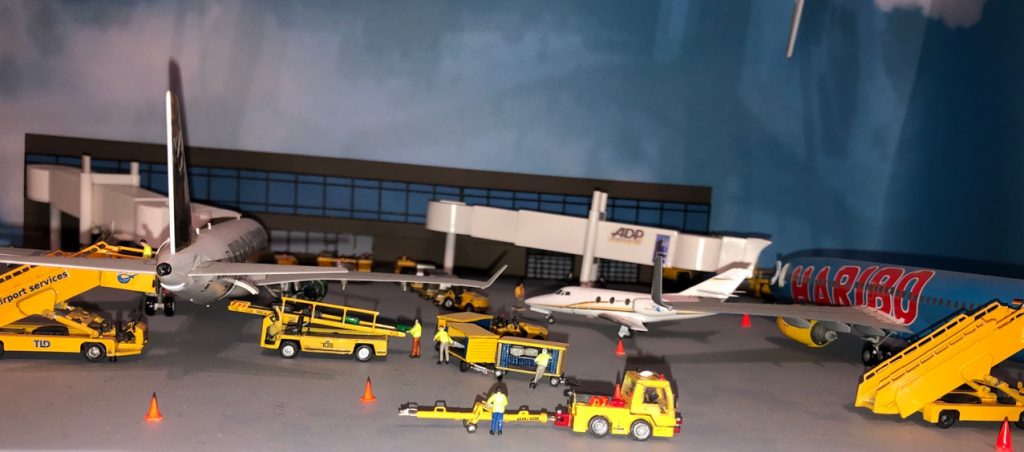 I will be publishing more photos, and if any of you wish to share theirs, please do contact me and I will be more than happy to put them in the new gallery.
That is all for now, work continues, it never stops, whether it is an improvement or a solution of a new problem, production and the creation of newer things.
Wish you are all safe, wish you all that this year can be the year we can start to leave Covid behind, the year we can start to see a light at the end of the tunnel even the tunnel may have its own curves, we shall not give up, take good care of those that are around us, be kind and be nice.
Best wishes,
Guillem