Hello everyone,
As I commented on the previous entry, today I would like to upload some of the process I made during the last days on regards the 747F project.
The cargo door still requires more details on the inner side, the two arms as well as some bits of wiring, the rollers etc. There are some minor differences on the panel between the -400F and the -8F, there are also some differences in the deck (besides the lenght) so I will work on the -400F variant later on once I have completed the 8F.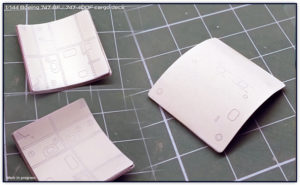 In the previous entries I comment on the issue I had with this particular area of the door frame, now that I have attached (only for reference) the door, I can see that the inner cover has to have an empty space, like a notch so to represent the space needed for the door to fit once supposedly closed.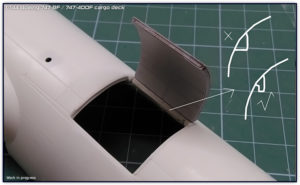 There is also going to be all that detail for the reinforcement of the fuselage for the door.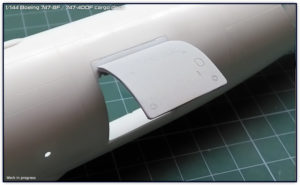 Still work to do on the union between the door/fuselage, as I comment before, I need to correct that area.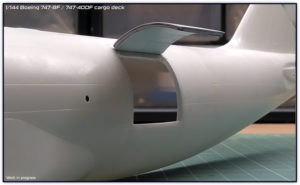 Now that I have more or less figured out the SCD, it is time to plan very carefully the interior of this beast. Unlike a house, I will start from the roof, I will do so by continuing and modifying the cockpit floor, extending it to the resting area, there, it cuts and a second ceiling is visible. Having the mark of the deck level and having later the level of the ceiling, I will be able to see clearer where the side panels and their detail will go.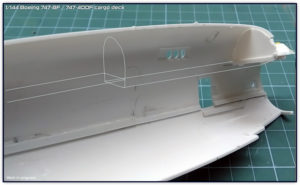 There is a Zvezda 747-8i on the way as I would like to do a port from this build in order to be placed on the Zvezda kit, as for somebody it may be easier to find a Zvezda kit than a Revell one, I also would like to do this port to open posibilities for those who prefer to work on Zvezda kits. It will be a challenge because both kits are completely different, a lot of surgery to do, but the Zvezda version will come later once the Revell variant is completed.
Within the next couple days I hope to upload some of the progress done on the livery decals.
Thanks everybody for reading!
Best wishes,
Guillem