Hello everyone,
How is everybody doing?
Here in Spain we are (some regions) moving forward to stage 1, so things are becoming "normal" little by little.
I feel powerful to keep on working hard and preparing things for the store re opening. My aim is 15 days, so the re stock of all the items is scheduled for May 22nd.
I am taking this time because I am on the final stage of the Neo engines as well as continuing on preparing items and ultimating a few other things. I really hope to expand the equipment so that I can prepare units faster in the near future, although I will still have two hands to pack everything (cut each part individually) at least I think the availability will be quicker.
The way that the virus affected me was on regards shipping. Right when I had the first round of sold outs and was about to produce the next units, the shipping had to be stopped. So during the quarantine I decided to work on new items and keep on producing at a lower pace, also because the equipment was needed for testing these new items.
But now I have gathered all the materials I needed, including gloves, so I am working as much as possible in the production to bring as many units of each item as I can, I hope that I can have finally a starting point where I can actually be able to supply with more units in shorter time when an item is out of stock. This is something I always want, but there are always changes that prevent me from keeping a consistent re stocking, for the moment, because there should not be any more changes that will affect this.
So, May 22nd is the day I plan to release everything (except at the moment, the 787-10 fuselage extensions for which I am still working on).
In the meantime, I also have been progressing very well with the 1/12 B737 cockpit, so I am able to show a progress photo of the main instrument panel, which is currently a bit more advanced than in the screenshot below. I reworked the screws (not in this screenshot).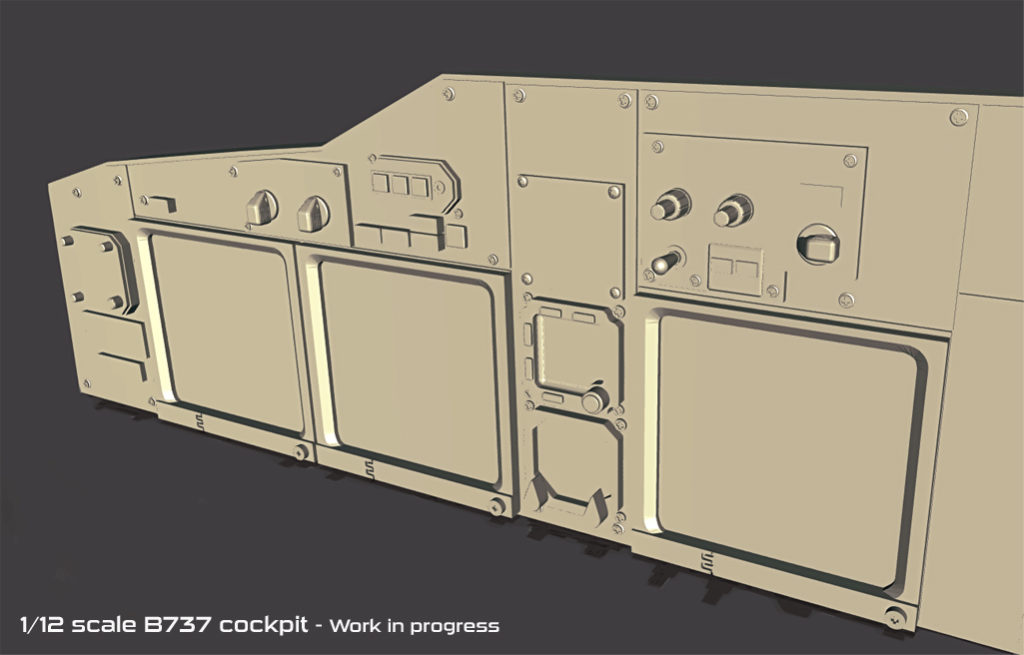 I would like to give an update on next weekend (15/16) about how are things with the units and perhaps share more photos of the Neo engines.
Thank you all very much for your patience!
Best wishes and stay safe,
Guillem