Model specifications:
– Brand: Tamiya
– Scale: 1/35
Detail sets:
Photo etched:
– Eduard ref 35634
– Eduard ref 35591
Paints:
– Vallejo US dark green 70893 (64,93%)
– Vallejo white (9%)
– Vallejo black (25,97%)
– Vallejo burnt umber 70941 (66,6%)
– Vallejo white (26,6%)
– Vallejo black (6,6%)
– Weathering and fading with oil paints and turpentine from Titán:
– Pardo 76, azul ultramar 56, blanco 4
– Base with Vallejo matt varnish
– Wet weathering with Vallejo gloss varnish
Opinion about the kit:
The kit is a standard kit from Tamiya in 1/35 scale. Kits age is from 1996 but everything is in excellent condition, not only that but the detail of the parts is excellent and very crisp. A nice detail from Tamiya is the quality of the decals, although the kit is from 1996, the decals were printed again in 2011.
My thoughts are that they included more markings so hence the addition of a separate page (double side printed) that shows more variations.
The kit does not include photoetched parts, but includes a couple of figures and a square mesh, this mesh will be replaced by the photoetched mesh from Eduard.
The tracks are made of rubber.
There is also another newer version of this tank by Tamiya that includes an ammo loading set, which includes five figures loading ammunition, cases and shells as well as parts for the gun's loading mechanism that are visible through the turret hatch.
Another variation of the Type 90 which dates of the same year as this model is the addition of the mine roller.
Opinion about the photo etched parts:
I am going to use photo etched parts from Eduard. Looks like the mesh is still being produced (ref 35591) but the completed set of photo etched (ref 35634) which includes details on the machine gun as well as details in the tank itself has been sold out and discontinued since 2011. In their email they also indicated me that they are not planning into re-issuing this detail set which will make this build unique for me due to this fact, luckily I find the set on eBay. However, another brand that produces photo etched parts for the Type 90 is Lion Roar, but for what I can see in the images on Internet, looks like Eduard has a bit more parts represented (doors handles) but that is, of course only by the photos I saw on Internet, I do not intend to compare both brands, well at least until I buy another Type 90 with Lion Roar photo etched set.
Representation idea: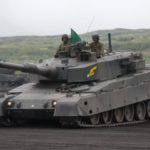 I thinking of modifying the tank's suspension to make it like in above image, I probably will have to modify the main gun angle too, so I think it will be very fun and challenging trying to imitate this tank's pose.
I hope that the rubber tracks will fit on this position. I will study the position and try to reproduce the model as much accurate as possible.
Another idea is to paint it in a wet effect similar as this: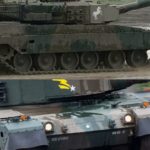 Suspension modification: