Hi all,
I am writing this entry to comment on the stock of the older GSE models. As you may probably know, sometimes molds can break or deteriorate with time because of several reasons; use, humidity etc. So right now I am in a transition process in which I am making new molds for the following items:
1/144 Towbarless pushback.
1/144 Catering truck.
1/144 Cargo loader FMC15i.
1/144 Ground power unit.
1/144 LD3 containers.
I am obliged to make them new because using old molds means that there is going to be a loss of detail, so it should be important to renew the molds from time to time.
I am also re organizing in which way the parts will be casted so that I can:
a) Make the parts easier to prepare, by requiring less sanding lines.
b) To shorten the making process per unit.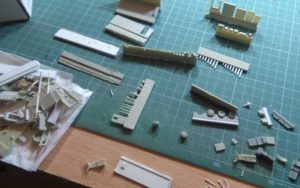 For the catering truck, I currently use 11 molds, but with a re arrangement I can use 7 molds.
Some of these modifications will represent a slight change in complex parts for casting, so these have been disassembled into two, but the final result will be the same. Therefore, a small update on the pushback truck, catering truck, and cargo loader instructons will be required.
The recent items:
1/144 Belt loader.
1/144 Carts (A and B).
1/144 baggage.
1/144 AKH containers.
Will be produced with their original and recent molds.
As for the Neo engines; I am preparing stock units of them so they will be available once the stock for the GSE items is completed so that the new online store can be opened with both these items available.
I would like to write a little bit on regards the airliner livery decals, but I currently can't give much more info at the moment as tests haven't been done yet for the A350 decals. I am currently designing the base decal for the Airbus A350 and at the same time designing a new type/style  of decals (I think) which will be tested on the A350 and for which I hope they will come out alright.
Best wishes,
Guillem