Dear all,
First entry in a long time, how is everybody doing?
I suppose, most of you are staying at home, it is unfortunate from my side that I can't ship items that I am currently preparing during this time, but I think that health is first thing, for everybody, for me, for people at the post office, for workers… so I am reducing as much as I can the chances to go out.
Specially, because I really can't ship orders normally. The postal service is in "minimum" acceptance only, some countries are not allowed to ship to, only one shipping method is available, thus there are many complications that in this situation, I just prefer to wait and dedicate this time to new items and prepare units. If this situation with the postal services is not going to change in some time, I will have to change shipping methods of the online store, but then again, some countries are not allowed to, and delays may occur in this current situation.
Trying to make a good use of this valuable time, I am trying to keep a positive mind all these days and working on new things, situation is getting better very very slowly here, but we must not get too confident.
I am currently preparing GSE units, so that everything can be available as soon as things can get back to normal little by little.
There are however, some new items that will also be available at that time, these are:
– Both, LEAP-1A and P&W Neo engines, including PE and decals. More photos of them assembled to be published soon.
– A set of 6 new figures; this time spotters, so there will be a few photographers taking photos of your models at the ramp.
– New A350 sharklets with correct airfoil. Revell kit wing is not that good, so sanding down the wing will be required (as instructions will explain). This sharklet is intended for A350-900 models fitted with the new sharklet type which is the standard for the A350-1000.
– New A330, A340 sharklet with airfoil. The A330 sharklet from Revell's kit presents some issues, it is basically flat and smaller, so these new sharklets will have an actual airfoil as the real model does. Note that positioning of the sharklets on the wingtip is also incorrect on Revell's model. Photos of this once I have more progress.
– New 787-10 fuselage extensions for 787-8 model kit (Zvezda). I have been working on something new and little by little getting into fuselage matters for future transformation kits.
This two fuselage extensions will also include transparent windows, however, it may not yet be ready once I can ship orders again, but it will definitely be shortly afterwards. Again, photos of this once I have more progress.
– 1/200 GSE items, the towbarless pushback AST-1 F 600 will be ready as well, the first prototype has been finished. This model is a very special one for me, this time it will include decals besides the small PE sheet. I am also testing the Houchin GPU C690 which may also be one of the other 1/200 GSE models to be released simultaneously.
From this point, further models currently in 1/144 scale will be produced in 1/200.
I have to say that this truck is quite small, working now in 1/200 makes things harder to do, but there are several improvements  over the first version I made some years ago. This one actually includes the rear signals and the driving mirrors are solid. Due the size of the parts, spares will be included.
There are going to be other projects for airplane transformation parts and engines, but at the moment, I would like to resume some current projects:
– The 1/12 B737 cockpit is progressing very well, the sidewall is almost done, work with the main panel has been started. Being able to do this project with the computer is very helpful for both, accuracy and work time. I am using lots of reference photos that my good friend Philippe has provided me, and there will be as many options as I can spot, such as different clock gauge and buttons.
– The B747-8F/-400F project is going to have a very big change. I am facing two difficulties, one is that I am considering how to do this so that it can work for the Revell and Zvezda models, since both have an overall similar shape, they have very different underbelly parts and wing joints.
The second issue would be the main deck, which can be difficult to add if the fuselage is not well prepared.
So, what I am considering to do is create a new fuselage. It will be an hybrid, one for Revell's model and another version for Zvezda's.
Again, time that was invested goes somehow down the drain, however, I think it will be worth it because creating the fuselage will allow me to actually make it so that the main deck fits easily, I mean, it will be ready for it, plus the interior detail will be directly on the fuselage walls and only the wing root area will need to me modified for either kit manufacturers.
This will be a full open kit, so creating a new fuselage may also help on both cargo bays.
I did not want to finish this entry without mentioning a very special gift that my friend Frank has given to me to help me go through these days, an amazing KLM DVD's which helps to keep my motivation at full to keep on working and continue creating stuff. A huge thank you, Frank!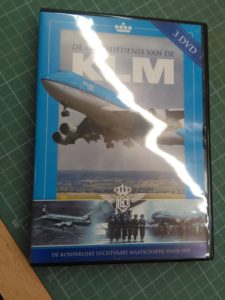 That is all for now, I am working as much as I can, continuing making more units, and as soon as things can get better, I will resume the shipping, I will inform about it once this takes place, but in the meantime I will be updating the blog with new photos of all these new items / projects.
Everyone, take good care and stay healthy.
Best wishes,
Guillem