Hello everyone,
I thought to give an update over the weekend, but I am not sure I could have the chance, so I am writing this entry to give some info on the status of the current projects.
These have been difficult days, change of seasons are often an issue for some people, thus I am not much in the mood for many things, but I have to go on with my work which at the same time helps to keep my mind on track.
Today I will be writing about the airline decals, the B747-8F project, the B787-9 cargo holds, catering truck and some changes that I will make in the store as well as in my schedule.
The airline decals, or perhaps better said; the detail part of the airline decals was printed and I am awaiting for them to arrive. I mentioned long ago that I would make public who is behind those silk screening prints, but at the moment, I will keep this to myself, I am not obligated to anyway, so simply a silk screen work which I am sure will be of very good quality, I may mention the manufacturer once I have these decals with me.
That is only one portion of the whole thing, these airline decals are something that requires a lot of time, adding many details results in not having much space for more, so everything from there increases the costs to produce, as these silk screen decals have 3 special colors that also increased the cost, because I did not want to use black and standard red for those small details, too much contrast in my opinion, but that is just my taste that some may or may not agree with, everyone has thier valid opinion.
The detail sheet for the A320/A321 and their Neo versions (altogether) is a bit more than half an A4 sheet, so I have had to arrange what was gonna be printed silk screen, what is printed black and what is printed "photo real", then of course the livery itself.
There is still a lot to do, new instructions are being made, which I hope to improve over the last ones with more detailed information and with help regarding the colors to paint the model.
That is all I can say for now about these decals. I may comment further but regarding the passenger windows, which is something that the model companies should really improve, basically spacing and sizing.
The B747-8F project will move forward soon, this is the third kit that I had to use and I hope it is going to be the last one (at least for work). Revell does not seem to keep much stock of the freighter models, so I also want to make a conversion for their passenger kit as well as for the Zvezda model, meaning you will be able to transform either in the full opened main deck and cargo holds detailing.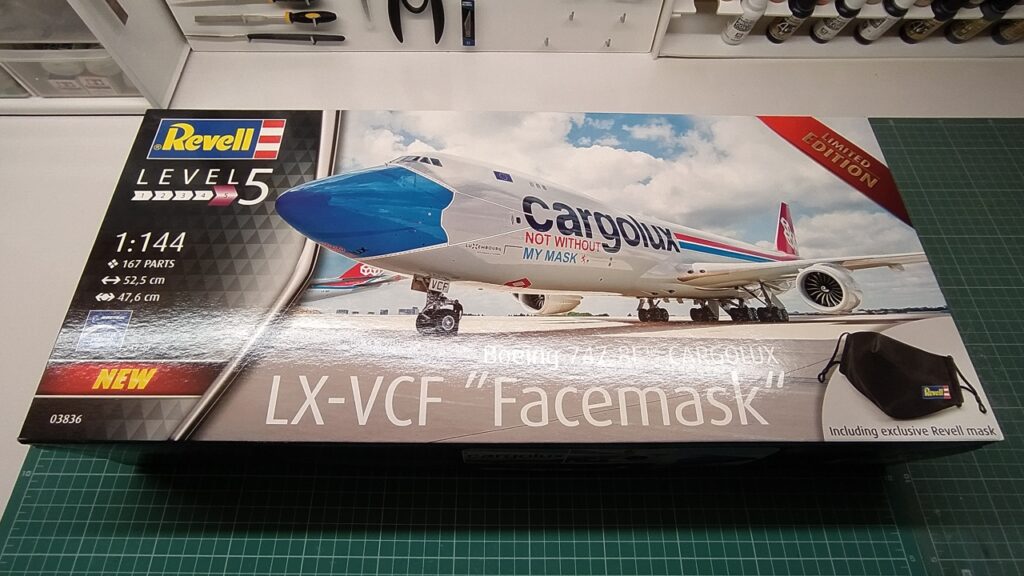 The reason for the B747-8F (later, 400F) to advance is that the B787-9 cargo holds are progressing as desired, I have no photos of it just yet, but I expect to update the blog at the beginning of next week with some more information and share the basic structure.
Regarding the changes that will occur at the store, it is basically about restocking times.
I really hope that you can understand that cutting, preparing and packaging hundreds and hundreds of tiny parts is a very time consuming task. So there is going to be a day of restocking each month, I may do restocking at the end of the month or at the 1st of the month.
This is very positive for me because it allows me to have the time to restock each individual item simultaneously, so that the customer can have a better chance to find the desired items all available.
Naturally, it may be possible for a certain month to not to have enough time to make units of a specific item, in such case, it will be restocked on the next month, this will be easier for me instead of setting restocking dates differently for each model.
This is an example image about how I have to organize every part of the B787 galleys prior packaging, this is only a part of the whole kit, for 12 galley sets, parts of about 2 to 3 mm in size: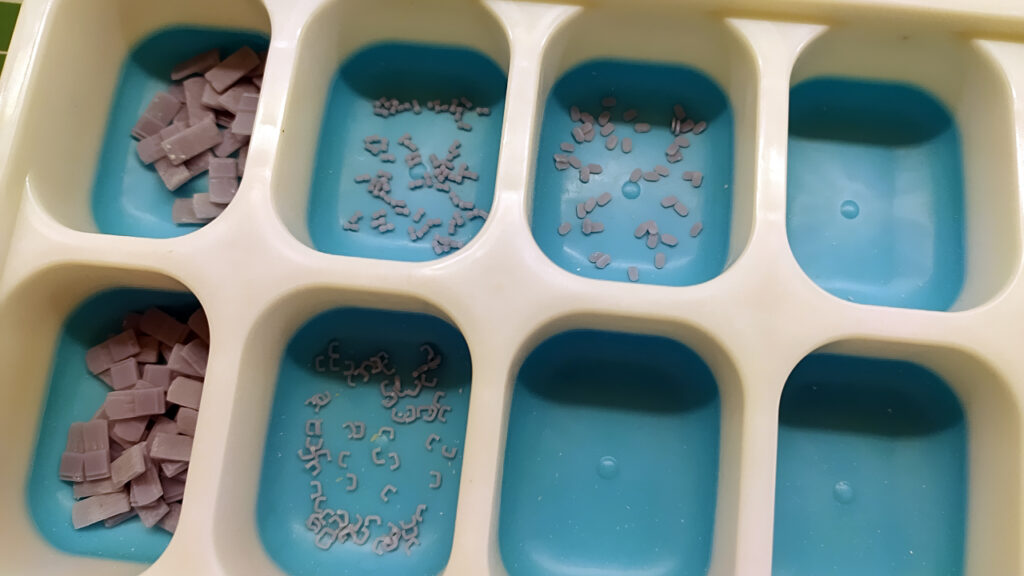 This will be changed, and I may already be doing it right away with this new rear galley and have it done as well for the forward/center sets.
It is something I can specifically do for the galleys, so basically these parts will be standing on a base and will be ready to cut off by the modeler, this will save times for me which can be focused on preparing more units and/or work on other items/ongoing projects. This is not being lazy but practical, naturally as always with these galley sets, spares are going to be included.
It will resemble the traditional way to arrange the resin parts on a base as any other resin kit do.
This is something I prefer to not to do for the GSE models, as they have more complex parts and it would be risky and difficult to remove those parts off a base by oneself, if I do it and break it in the process, I can easily replace it.
Another change I will make is basically in my schedule, this is not something of much interest for others, but instead of working on the projects during the weekends, I will spare some time for me to make video reviews of building process about the GSE models (currently working on the Commander FMC15i) that will be later uploaded at Youtube as well as trying to build some airliner models for my own leisure and motivation, making a B787 build with the galleys and cargo holds is something I wanted to do for a long time now and as a human being I guess I also deserve some time to rest on the weekends even though the work done then will still be somehow work, but I guess a bit more fun.
Lastly, a quick screenshot of the progress with the catering truck, featuring the Mercedes Atego cabin. Note that an american version will follow and I want to have it by the time of release.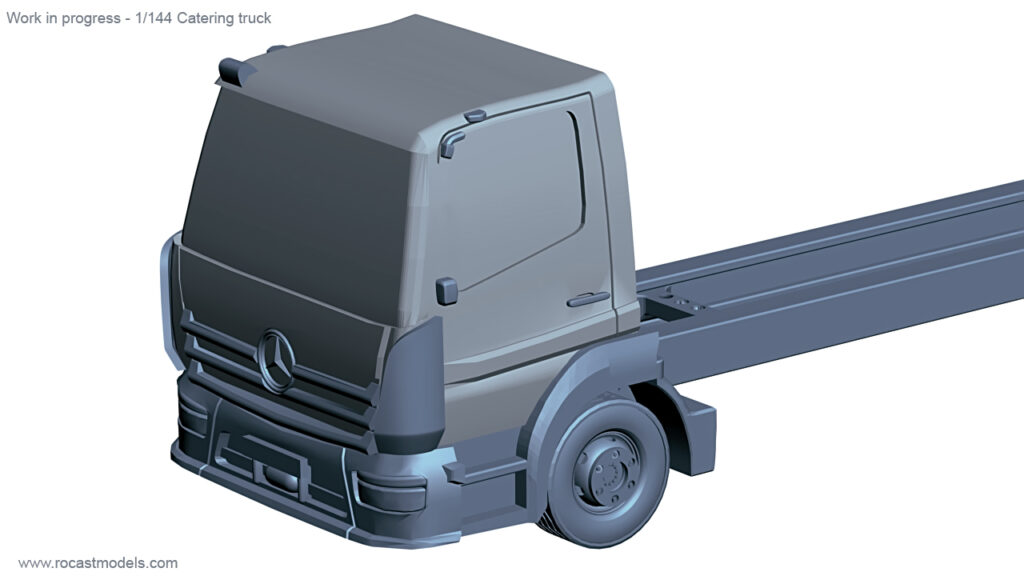 One thing that has to be said is that the 3D for printing requires some things that the rendering graphics don't, a render of a 3D model may be used for a realistic purpose, and while the GSE scale model must also be realistic, its 3D model need to have some details just a bit bigger or done differently for them to print properly, this is usually needed on panel lines, they sometimes need to be thicker in the 3D design to look realistic on the model.
The cabin above in 1/144 scale will be around 15mm tall and 15mm wide, presented with full clear high quality anti UV resin as well as maskings provided.
The delay on the restocking of some models and the release of the B787 rear galley as well as the 1/72 Houchin GPU is due the issues I am finally resolving with the material needed for the PE. Finally I found an alternative that works, and I also have changed some things on the process, so I hope to get back on track about it soon.
That is all for now, there is a lot of work going on, enough for me to keep my mind positive even though it is hard to do so these days.
Take good care everybody,
Guillem