Hello everyone,
Today I may not bring a lot of news but I am glad to say that most of the issues I had a couple weeks ago are practically solved.
Currently I am doing the last preparations for the restocking of the new towbar trucks, towbars and catering trucks which will be available again next Friday.
I had to take some days to remake/adjust a few aspects of the new towbar trucks in the process of solving these issues I mentioned in my previous entry.
I have been progressing forward with the 1/144 antennae pack, which at first, it was something "straightforward" to do, but I must admit some of them will be quite small, I will see if I can have them resin made as I initially thought, so far the sizes I believe are possible to make.
I have also started (I forgot how many times already) the B747-8F/-400F project. By starting I meant studying the steps that will need to be done as this won't be an easy task, the most difficult as always is, make things so that a set can be made out of it and be built again, as opposed to work on the fuselage for just a single project, fittings and positioning must be taken into account.
I am also doing the roadmap for the 1/12 B737 cabin now that I have the basic shape of the main instrument panel. This project will be a continuous project for this year.
Having to overcome the latest issues I had, prevented me from pushing forward these two projects, but little by little things are getting in place.
There are some other things I am also working on, but that don't have a specific release time, sharklets and winglets are in this category, but I am glad to say that the B747-400 winglets are very much advanced.
Today I was able to do a first test fitting with the ceilings I previously made for the B787-9 cargo holds and I am afraid to say that I am not quite happy with them, so I will rework them and make them again, it won't take too long as it is a relatively simple part to make.
Once the ceilings are done, manufacturing of these cargo holds will begin. Decals have already been made, there will be different markings, STA positions, pallet numbers etc. Once the manufacturing process starts, I will make the first ones as a finished version in order to share the finished product and to have them made for my hopefully someday-to-start B787-9 KLM project.
Before I finish this entry, I would like to present to you a couple more new galleries from two more friends; Felipe from Colombia and Walter from Austria. Truly beautiful models they have made, I personally know that for Felipe, the B767F is probably very special to him, the modeler who built it is Zamir Sotelo and I can imagine how much work was involved to open the side cargo door on that Zvezda kit.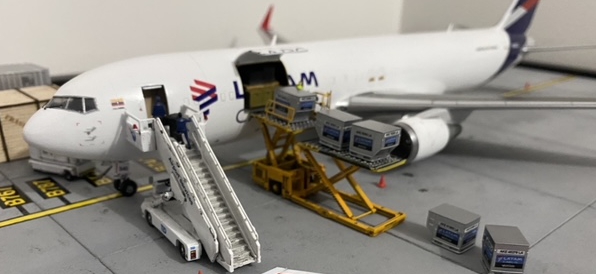 Walter's diorama is wonderful, such a nice representation with the characteristic yellow GSE from Vienna Airport, of course and an absolutely brilliant paint job on those figures. As he said, it is not a "fixed" diorama but a base to take photos, as it happens to me as well. I do not permanently glue the models as everytime I finish a model, I make use of the same ramp base and thus I change the position of the GSE unless it is a specific scene of a certain airline. The A320 is from Zvezda with Nazca and Authentic Airliner decals.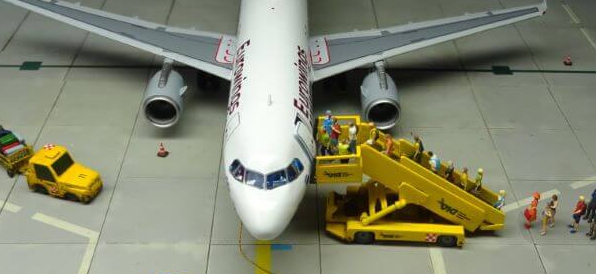 As always, I am at your disposal if anyone wishes to add their GSE/ramp galleries on my blog. It makes me very very happy to see those GSE models around the world, it makes all the efforts worth it.
The next entry will probably be on Friday, and as I always say, work continues, so hopefully I can share some photos of the projects with you soon.
Take good care everybody.
Best wishes,
Guillem