Dear all,
It has been some weeks without updates, I have been (thankfully) busy preparing orders after the second restock of the newest items, for which I am very, very, thankful to all of you.
It was about time that I wrote about what I am working on, as I am also having a troubled road with my current printers.
As I am restocking items that I haven't produced in a while, I am finding issues here and there that I am trying to address. I most certainly would not like to bore you with these technical problems, but to keep it simple; you buy again something because it has been working great for you, but once you get it, you see that it is not like the previous machine you were using, but rather a bit lower quality one in an attempt to lessen the production costs, still works, but it makes you wonder.
Upgrading is good they say, well, updates may fix bugs and issues, right? This is not always the case, and sometimes this can mess up things quite badly.
Seeing that the machine you ordered recently is no longer available and no further updates or developments are to be seen, makes you feel quite uneasy and that is why I am looking to change from the manufacturer.
Frustrating, time consuming… Material consuming… But I still have hopes and continue as best as I can.
Current developments/restocking:
1/144 Belt loader TUG660: Quite bad results while reprinting some of the parts, thus making me remake the model again (as I mentioned in previous entries, my knowledge was much more limited two years ago). Parts were printed perfectly on the previous firmware version, current firmware is much more unstable and files need to be more precise in the way geometry is created.
I am taking this chance to improve this loader, detail it a bit more, make it more accurate, a V2 version if you will, and also try to detail further the conveyor lifting system.
1/144 AST-1 F 600: So far the parts of it are coming out without issues, most of the stock of it is made, but a rework on the cabin will be necessary. The body, which is resin casted, needs to be silicon molded again as the molds gave up after this period of time of usage.
1/144 Cargo loader: Parts are coming well with the recent printer, not good results so far with the equipment I used throughout the previous year, (after the new firmware update) and thus I am still trying to figure out if that was just an isolated issue, or it will happen again, in such case, I am going to switch immediately from manufacturer.
There are going to be items to follow these, production of the stairs truck, JST-25 tractor and some other elements will proceed as I keep completing the previous items.
I am aware some items are nearly out of stock and some others are out of stock, so smaller items such as LD3 containers, baggage sets, ground cones, chocks or WiFi radome antenna are also being made.
Development of new items:
Antennae pack: Nearly finished, need to group the antennas together and do an initial test.
B747-400 winglet: Main shape will be casted this weekend, work will continue, but it is going to be a definitive article, not just an attempt as it started.
B787-9 Cargo holds: A new improved ceiling was made, only the casting for the rear cargo hold needs to be done and production will start. I will proceed to make a finished version for my own project that hopefully can showcase how these look like once in the model.
B737 1/12 cabin: Making the first mold of the main panel and thus working on having a finished, ready-for-production part. Sidewalls will follow and thus starting to have a basic layout prior moving into other sub panels.
B747-8F/-400F main deck detail set: Preparing the fuselage (Revell) to start with the step of gathering the main shape to have the main deck, ceiling and cargo hold structures, once main shape is obtained, detailing work will begin. Zvezda model will follow afterwards together with a conversion from -8i to 8F (hump and maybe a portion of the fuselage for the side cargo door opening which I may also modify on the Revell one for thinner and realistic fuselage thickness).
1/200 Towbar pushbacks: Trying to get back to my roots when I started with this, trying to make the first 1/200 model in the catalog to be a finished product. Last year the 1/200 kits were not selling very well, thus I will give a try to market 1/200 GSE but finished. Initial tests will be done on the 1/200 Schopf F110. If all is ok, production of these will be done sporadically at the beginning, but done maybe once every month or two as I need to find the time to proceed with this and it will all depend on the restocking of the rest of the items.
1/72 Towbar pushbacks: As a request, I am working on a 1/72 towbar pushback truck, the Schopf F59. At first I thought it would be "easy" to resize the model and print, but the reality is that there is more work with it than I thought.
A more detailed body has been recreated, a new rim/tire was designed and a more detailed interior will also be done.
1/72 is a scale I said in the past I would like to work with too, but things are not as easy as it seems and thus I will need more time to make items for such scale. Therefore, the 1/72 F59 pushback will probably be released at the store for anyone who wants it as I cannot afford to provide it to only one customer after all the hours involved upon realizing there was more work into it than "resizing".
Restocking times: I have decided that restocking of items will occur one day of the month, which day I still have to decide.
To me it would be better to prepare items through a month, and then restock all possible at a certain day each month.
This is mainly based to the time required to prepare these items, as I feel that restocking every item different days of the month may be frustrating if you need something else, so dedicating a time for this task and putting as much items available as possible for a given day, will give the customer a wider range to choose from and knowing beforehand when things will be available.
I will comment more on this as I advance with the current stock of the 1/144 AST-1 F600 pushback, cargo loader, stairs truck and most probably the newer version of the belt loader.
Lastly, I would like to share the work I've done a couple months ago, these are the B787-9 galleys for my personal KLM project. Once I officially start it, I will create a new section at the blog specially for this build, which is something I would like to do from weekend to weekend.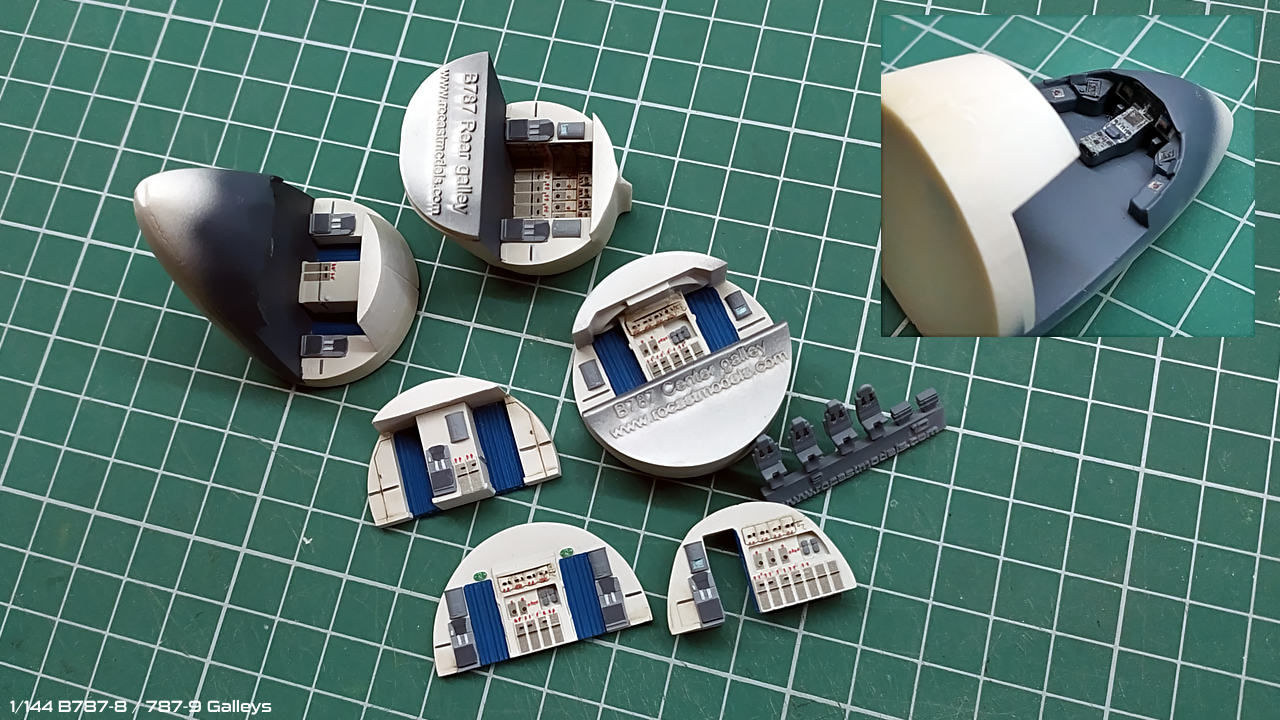 That is all for now, a lot of work to do, but I am not losing the desire to continue creating despite obstacles and situations that can be found each day.
Hope everyone is doing well and safe, take good care of yourself and your loved ones.
Best wishes,
Guillem