Hello everyone,
Long update today with several news that I would like to inform you about.
First and foremost, I may need to run some updates at the store in the future, I am not sure when I will be able to do so because several things need to be taken in consideration first, as you know, updating does not mean not having troubles later on, I always think that if it works well, no need to touch it, but… It is starting to get annoying and I am often being asked to update, not for safety but rather for developers wanting people to use their latest creations which in most cases are mere cosmetics. If there is any issue I will be writing about it here at the blog.
Secondly, I am glad to say that the shipping rates will remain the same as last year, since our national post service has not made any increase but only to those for our national services, so these will be updated shortly, international shipping costs will remain the same.
I am however, and I have mentioned this in the past, looking to add other types of shipping.
Third, I am still not exempt from having difficulties with my production. It does seem that the manufacturer has changed something in their resin. This type of resin I have been using for a couple years now and I have never seen such drastic change, I have two bottles of exactly the same product, yet one works fine, the other is giving me bad results. Because this is the third time I see this happening, I am ruling out a bad batch and guess they changed something, therefore some adjustments are required to be made, again.
On the other side, settings were finally dialed in for the new printer, however, I had to contact tech support for some things that are not fully right.
Now on modeling subjects:
I wanted to give a quick update on what was my final decision on the B787-9 cargo holds. As you may have read some time ago, I was debating the continuity of these two sets since I was not seeing any more info on Revell's B787-9.
After having quite the struggle to make stock units of the forward module, I decided to make a remodel of the main shape on both, aft and forward cargo holds, which I can later transfer (from design point of view) to the -8 version.
Details will remain the same, cargo doors and hinges/latches will remain the same, only a new shell structure will be produced. I plan to do this as soon as possible, but usually things are easier to write than to make. This is also planned so that I can produce more units in a shorter time, as it was very time consuming to obtain a reasonable amount of stock for these.
Quick update on the current projects:
The B747-8F/-400F is coming along very well. I have done several tests with my new printer and found the right setting to obtain the sharpness I was looking for (other technical issues aside).
There is still a bit of road to finish this project, although design wise, it is very close to completion.
What I am currently working on: LED's schematics and a way to actually install them in the aircraft. It would not be an issue if it was just for my model, but since this will be a production for the end consumer, the LED's circuit needs to be "install-and-connect" (not every modeler knows how to use a soldering iron) so I need to make sure all will be done properly.
The side cargo door was finally completed, the pains I had to go through to make it nobody knows, up to three versions had to be done, the first one was wrong, the second one was an attempt to fix the mistakes on the first one and the third was a from-zero new side cargo door.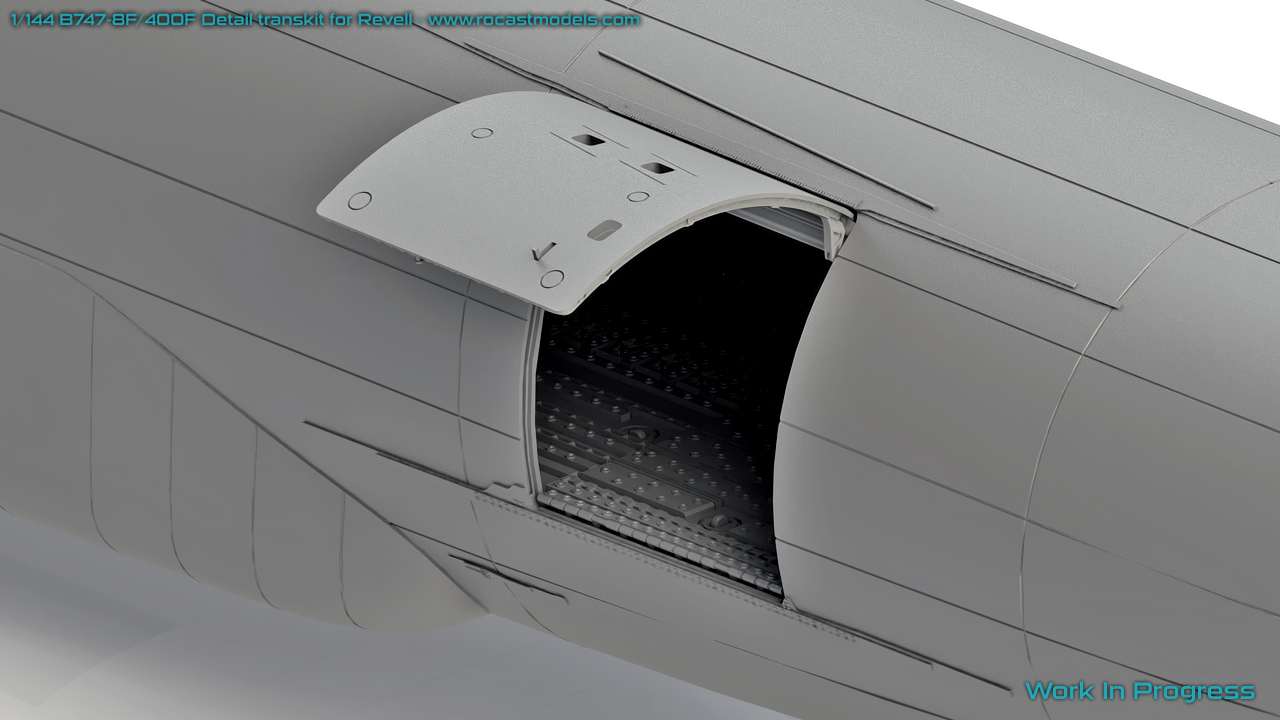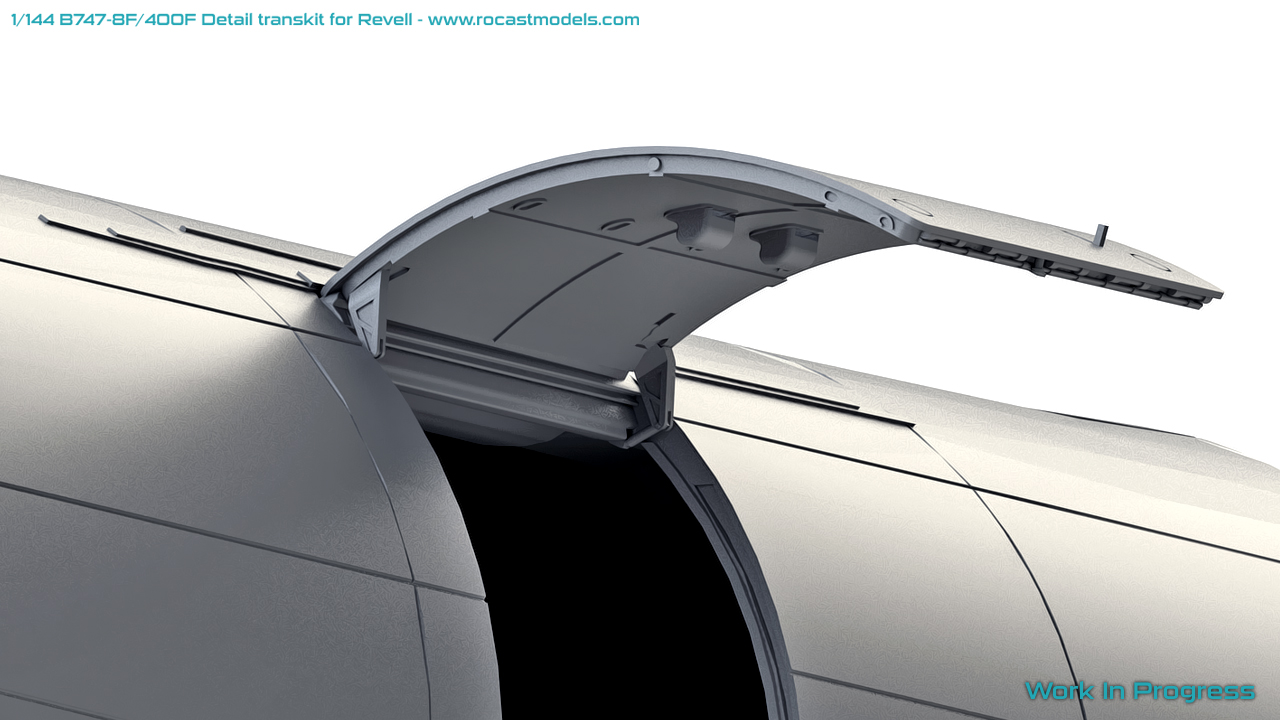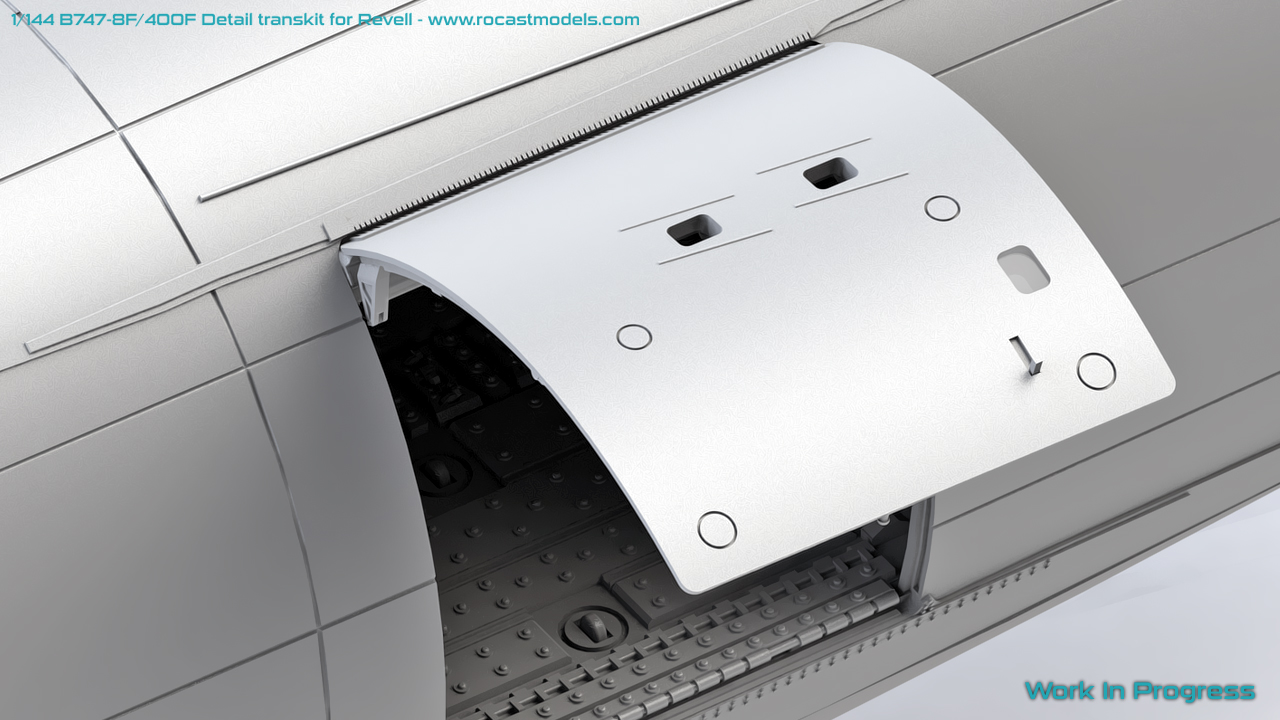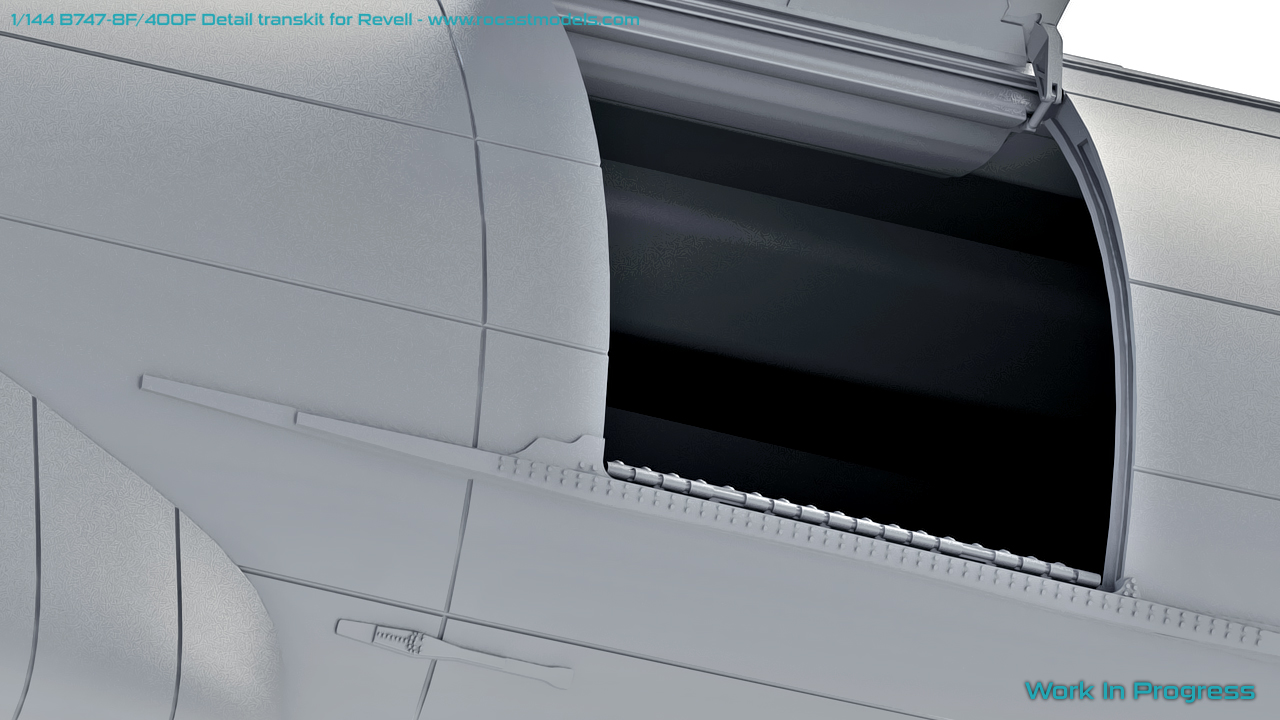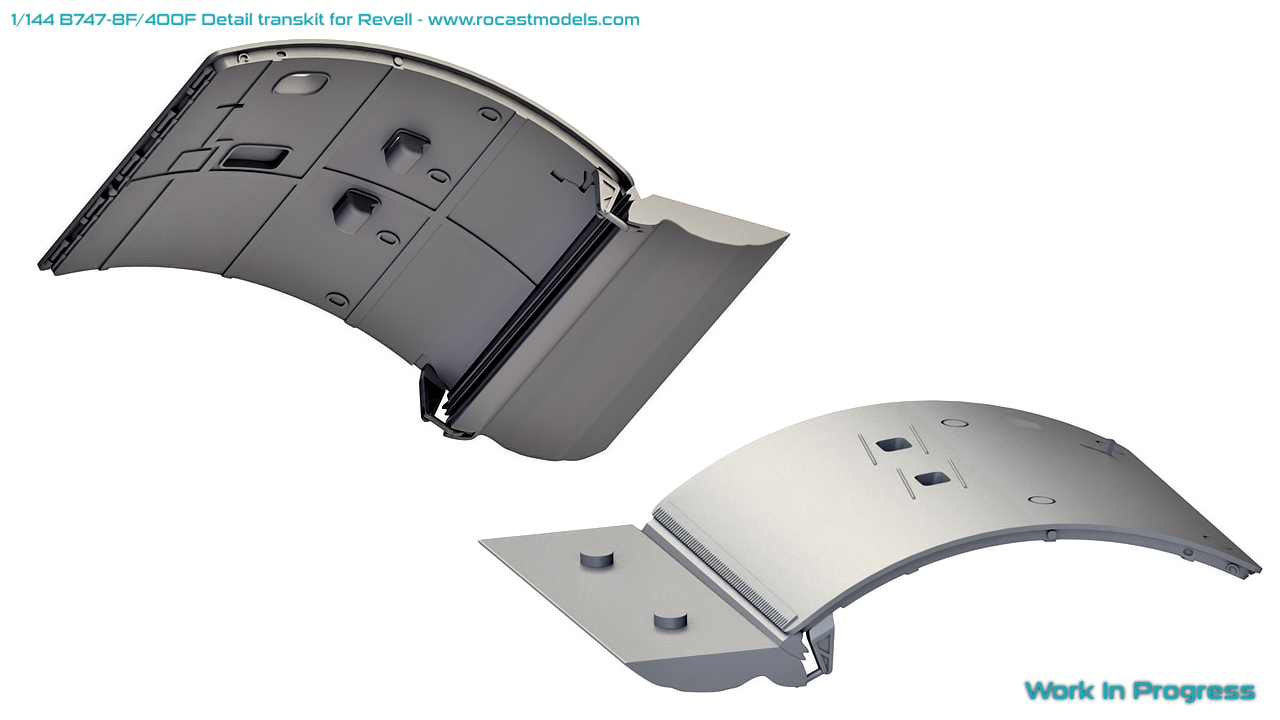 I was able to test more parts, also to familiarize myself with the software supports which is something I used to use in the past, nowadays I make these supports myself.
In this case, the larger parts of the project will be provided with the supports which will need to be cut out (a guide and video with tips will be made, it is actually very easy).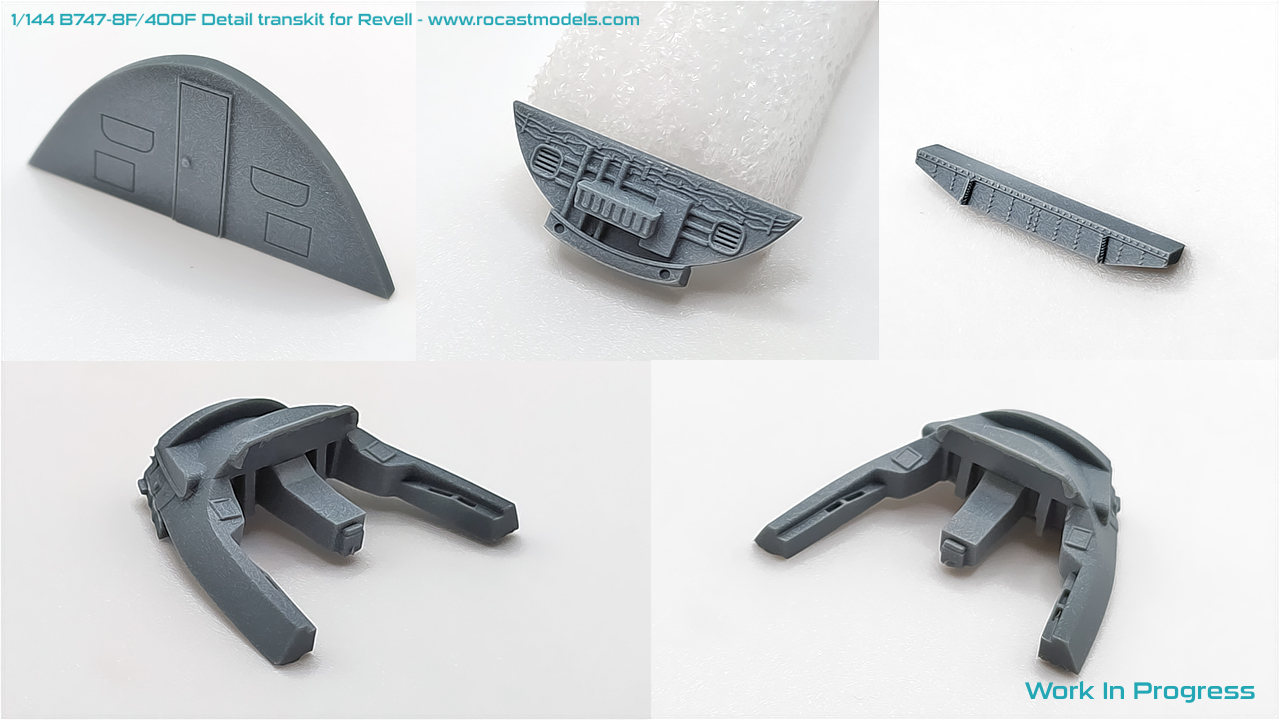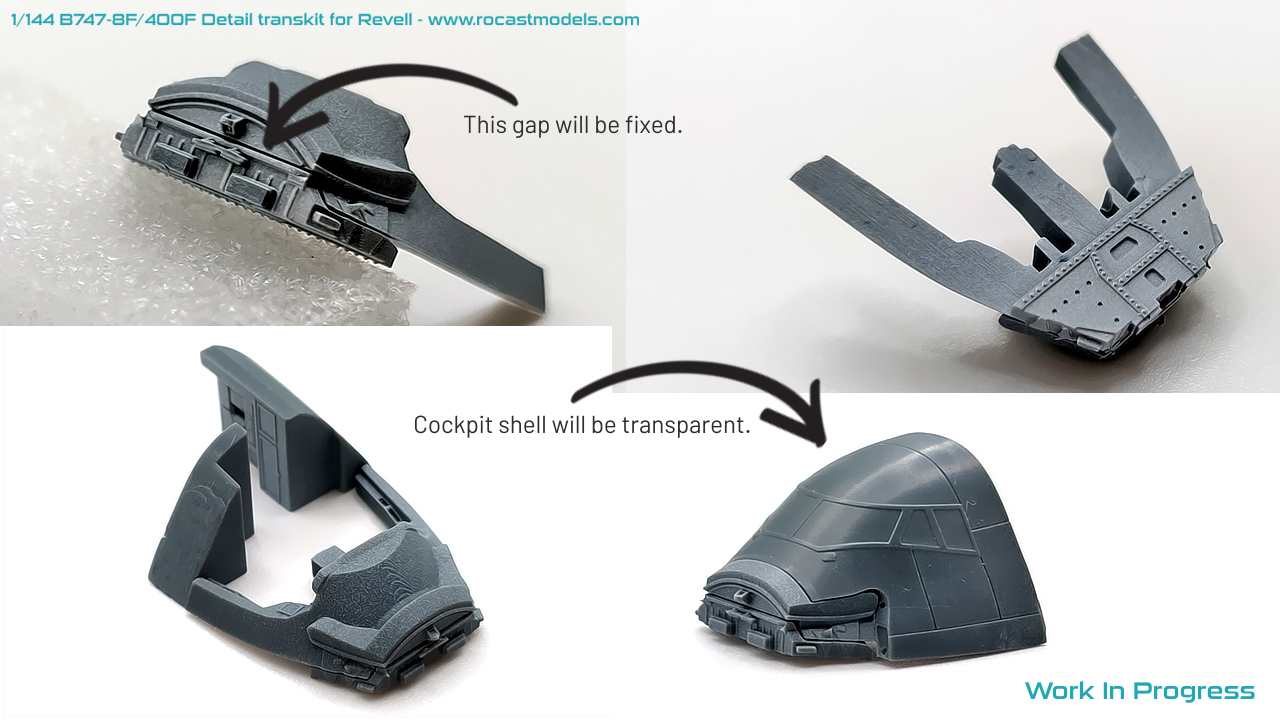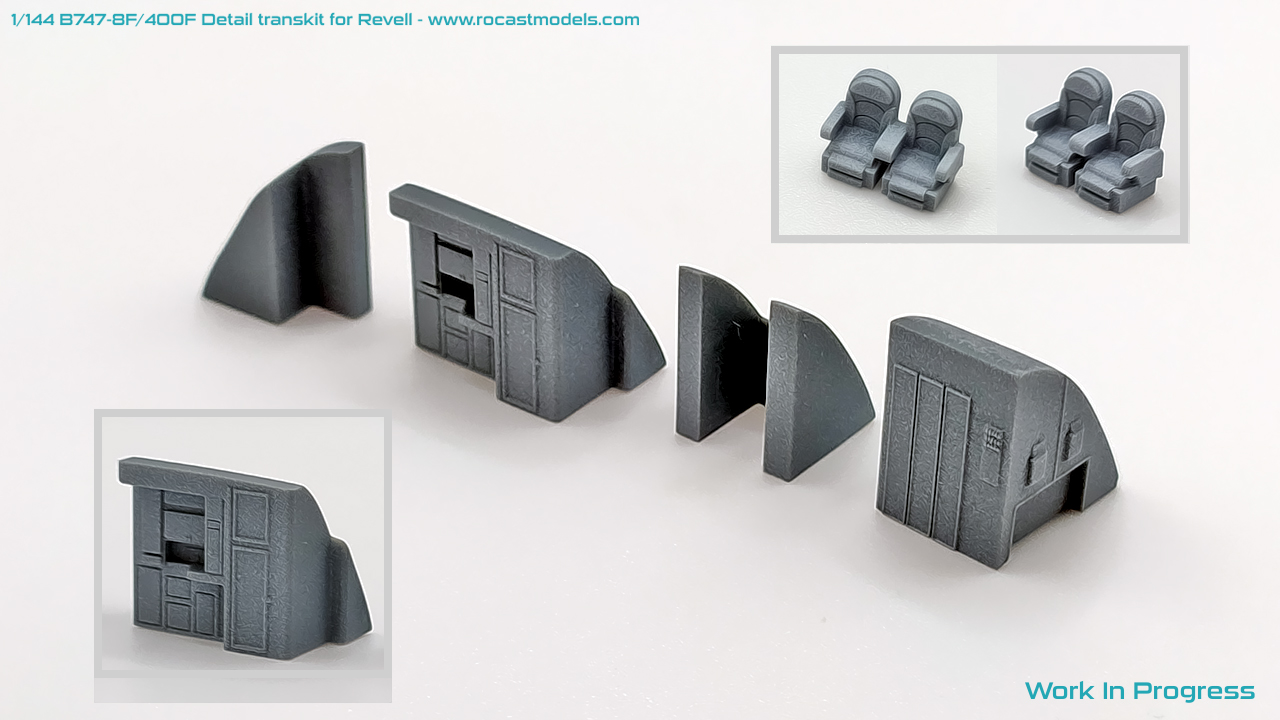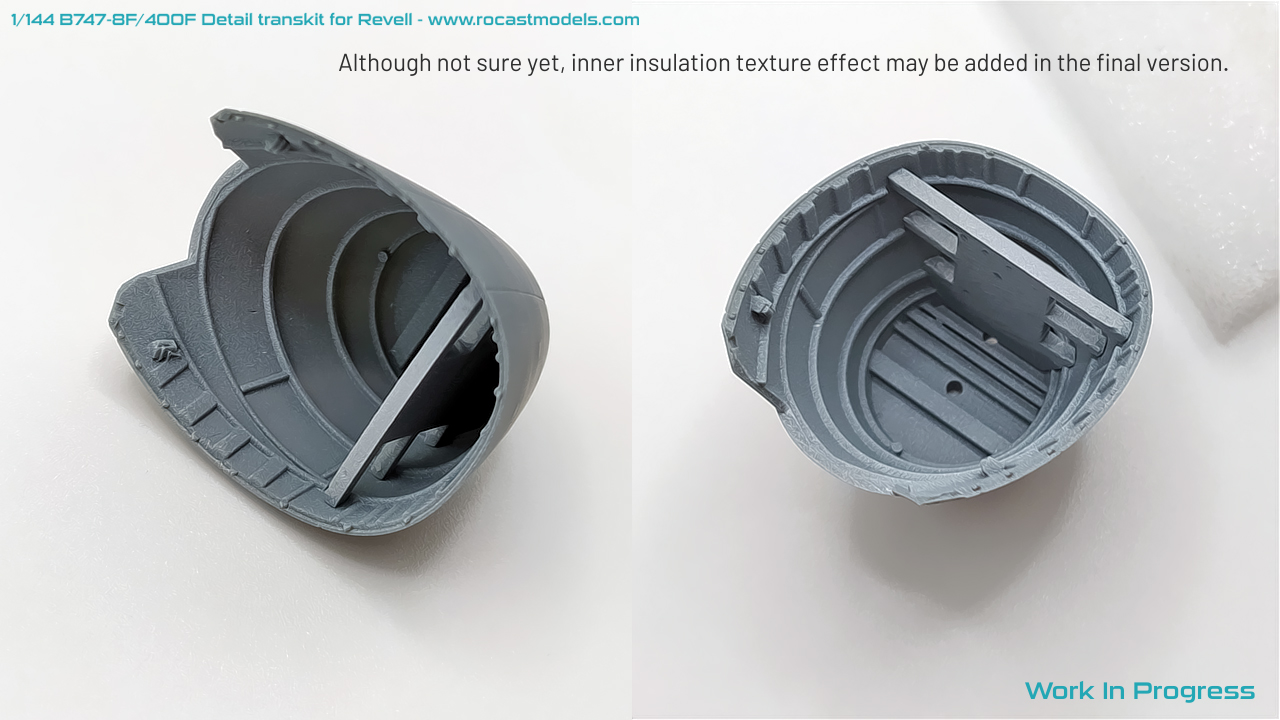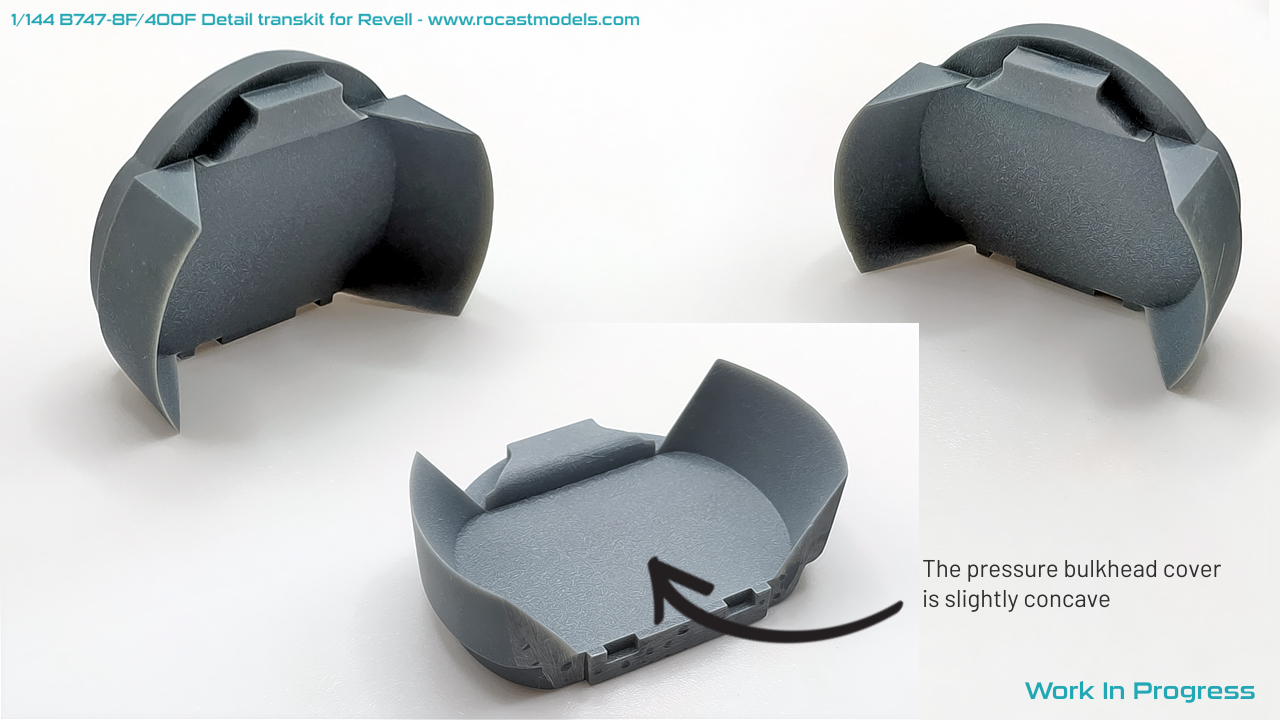 You may notice these parts are a bit "grainy", that is just me airbrushing a bit of primer on them to get the edges clearer, actually the parts are sharper than in the photos.
A few things to notice from these parts were already annotated in the pictures. The cockpit windows frame was readjusted from 0,12mm thickness to 0,09mm, something more subtle.
The actual cockpit windows are thinner than the overall shell, this is to avoid as much as possible the pebble glasses effect, so the thinner it is, the clearer the vision inside will be. There will be painting masks included in the set, for the windows as well as a masking to paint the frame.
I will probably end up the print tests for now since I was already able to see how things should be, rest of the parts such as upper deck floor, cargo holds, main deck etc will be larger items that will need to be resin casted.
A part that will give me a bit of trouble to print is the nose radome, but I will get around with it.
As I am making a list of the parts for this set, there will be around 80 resin parts in total. Some will be base-positioned (for small parts) some will be pre-supported (for medium parts) and others will be resin casted (larger/flat ones).
Steps to be done are:
Complete the LED/Lighting layout.
Add the last details on the interior of the fuselage.
Add the last details on the exterior of the fuselage.
Make the photo etched parts design/test.
Make the instructions.
Make the first prototype build for testing purposes.
Lastly, the decals, at first I thought to make them laser printed, I am however hoping to make them in silk screen, myself. These decals are only going to be the stencils needed for specific elements such as interior details and cockpit decals.
Moving into the 1/200 GSE.
The tests with the B747-8F/-400F were not only done for that, but also to test the first parts of the 1/200 GSE towbar trucks, the F110 and F210.
Some parts required an adjustment on their support, since reducing them from 1/144 to 1/200 made them way too weak, the rest is perfectly fine, so I expect to work on them as soon as possible.
Last but not least, I updated the galleries for Claude and Gustavo, which you can check by clicking on the images below:
Claude's gallery: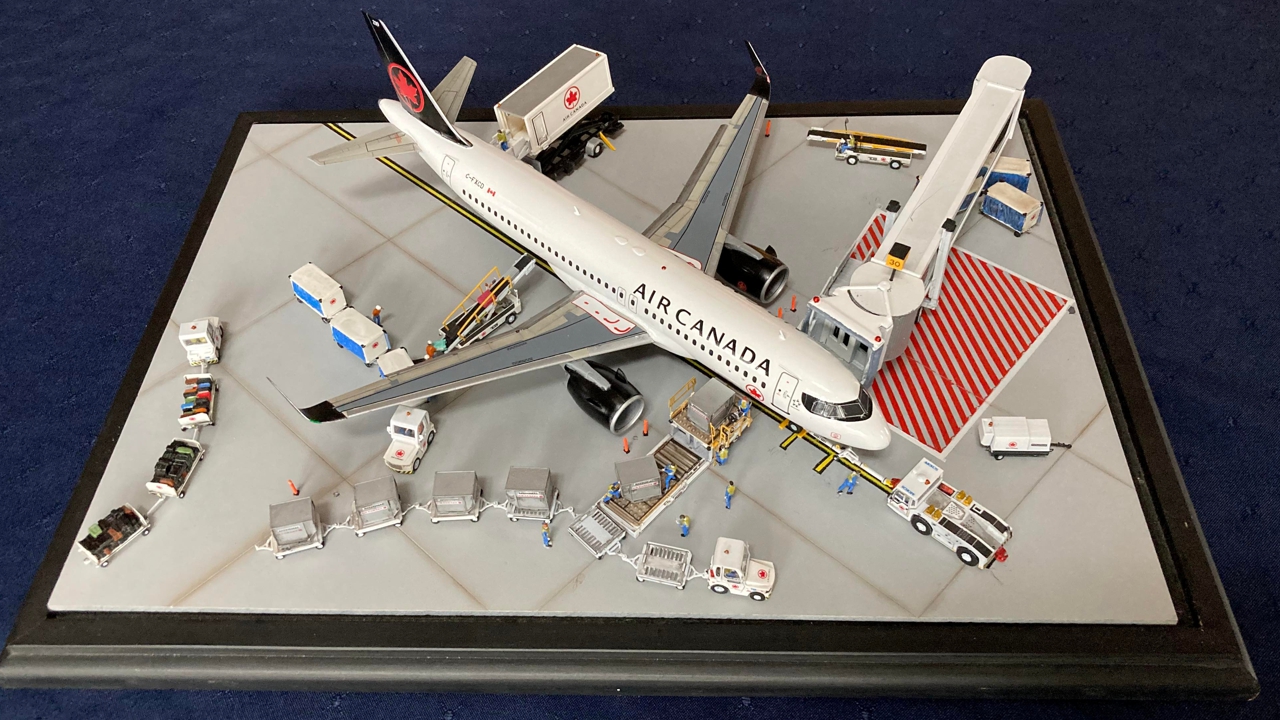 Gustavo's gallery update: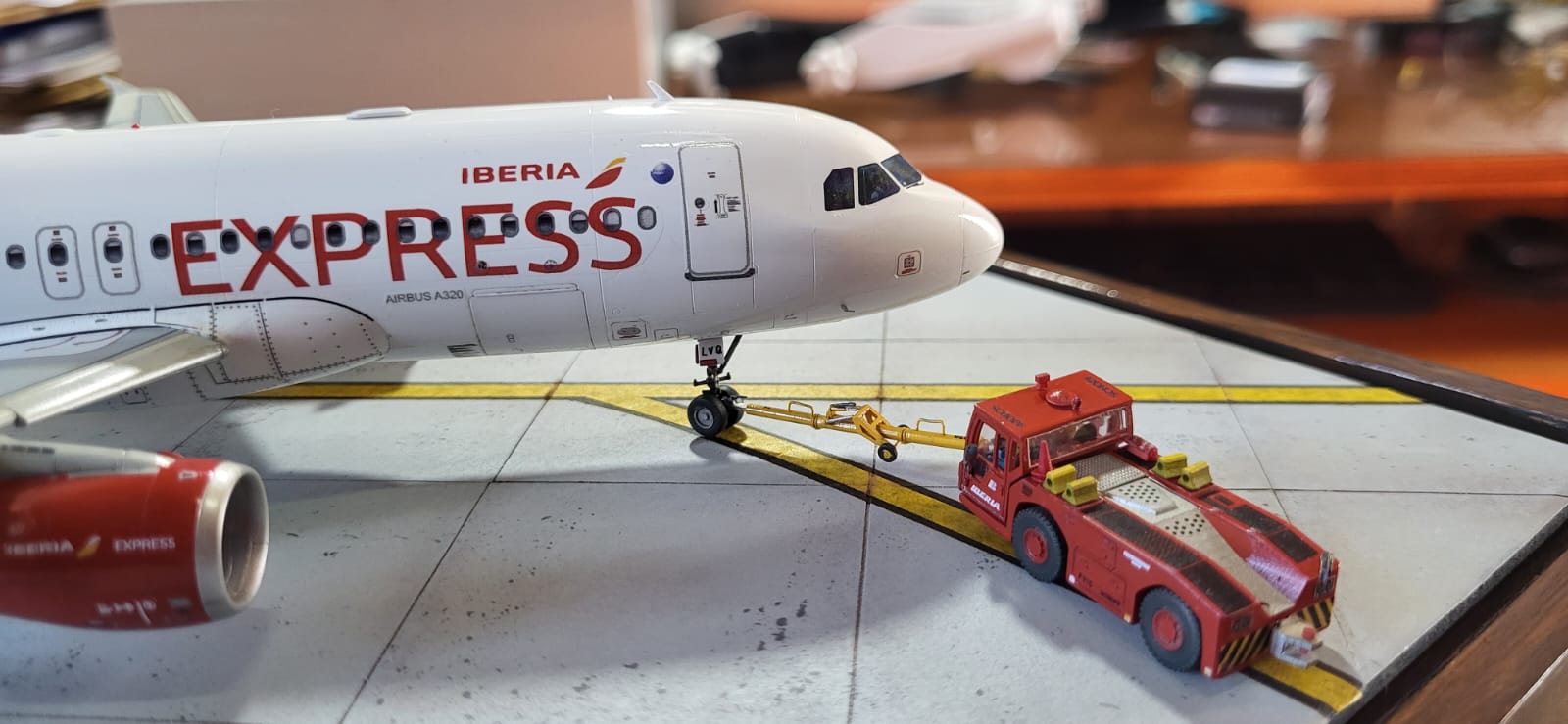 That is all for now, I hope to share some more progress with you soon.
Best wishes,
Guillem