Everyone,
Apologies for not updating the blog lately with the last projects.
Work has been focused onto creating units as requested and I thought to give a little update on regards the decals.
I can confirm (at least from the tests done so far) that I will finally be able to go on with the decals and therefore creating more artworks and decal liveries.
I've done a test on a smoothly-rough black plastic surface with first, a white underlaying decal (left side of the photo) and then with the decal color on top (right side of the photo).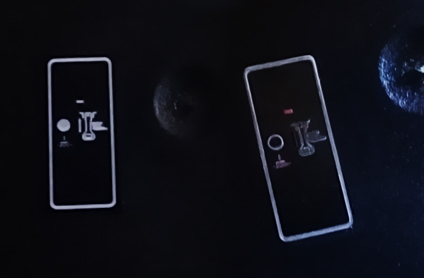 There are a couple things to notice; one is that after several trials and erros I let the door markings as subtle as I wanted them to be, which is in my mind the scale concept between size and colors.
These instruction letters on the doors are unreadable for such a small scale (obviously) but pleased with the subtiness of the decal.
Also the outline for the door handle is grey which really does not highlight too much on a black surface (that is why airplanes that are black or have dark colors on that door area, markings are usually white) but this was just a test.
Overall I am very happy with the result, I have started to adapt the A320 artworks to be printed in this new method so I am looking forward to build a model with them. Another important aspect I wanted to comment is that the decal is very thin (but resistant) so once the white decal was placed and set, there was no issue in placing the color decal on top, it slided very well, approaching it into place slowly and the edges are practically not visible even without using the softener in this case.
On regards the GSE and other items to be uploaded at the store this week, I am doing a change in one of the molds for the catering truck to keep things simpler to build for the modeler, so the catering may have some delay of a couple days from Wednesday for that reason. Cargo loader, A320 galleys/cargo holds, tug MA50, A320Neo PW engines are still set to be available on Wednesday.
Best wishes,
Guillem