Hello everybody,
There has been more progress on the 1/144 scale GSE models and I wanted to give a better detailed update.
These are the models I am working on: Towbarless pushback AST-1, Tow tractor JST-25 (with or without cab), baggage carts "open", baggage carts "covered", LD3 turntable trolleys, TLD 414 GPU, Houchin C690 GPU and belt loader Tug 660.
All of these items except the Houching C690 GPU are basically completed. Resin parts are done, so I am currently on the process of decal and photo etched parts design. At the same time I am also making the instructions for these models.
Here is the progress so far:
– Pushback AST-1: Parts completed, need to check the driver figure, need to remake the photo etched sheet using most of the previous PE parts and need to remake the acetate windows. Decals will need to be double checked and wish to make new versions, if you have any design in mind, please do let me know, on the top of my head I remember the Hello Kitty pushback, but others would be good too. For more info on the decals, I mention more about it at the end of this update.
– Tow tractor JST-25: Parts completed, need to create the acetate sheet for the cab windows, need to make the decals and design the PE which will consist of the front grid, other elements may be designed afterwards for the 1/72 scale. Instructions are currently at the 80% completed.
I am aware that some countries/airliners do make use of safety helmets, I recall ANA workers, so I will try to include these versions as well as summer/winter models to choose from (short pants, t-shirt/long sleeves, long pants).
– Baggage carts: Both the open and closed type are finished, set will include 3 carts and 30 pieces of luggage. Instructions are completed. Separate luggage will also be available.
– LD3 container turntable trolleys: Parts completed, need to double check. LD3 containers will be made new, decal sets to be re printed. Suggestions for specific airlines, please contact me.
– GPU TLD 414: Parts completed, decals at 95% designed, instructions are completed. This one will include a small wire for connecting to the aircraft, photo etched design of the access doors has been created. The PE set will include 10 access doors, 5 different dimensions so that you can use the one that fits best on the aircraft.
– GPU Houchin C690: Parts completed but modification is required. Still have the old decal sets, but may reprint them. Photo etched needs to be respositioned on the design and instructions are yet to be started.
– Belt loader Tug 660: Parts completed, need to create the driver figure. Decal design and instructions not started yet. This model will include a small PE sheet with the handrails, will most probably include a deployed and retracted rail parts.
Once these models are completed, I will start to test the 1/200 scale versions. This may require some time since they will be smaller and everything needs to be tested as well.
Unlike in the past, these 1/200 models will include decals, as long as my printer is able to print such small detail.
Photos of the new things done for the 1/144 models: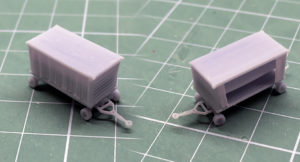 This model includes two fully closed curtains in case you want the cart to be completely closed, it also includes two small courtain pieces to have an open side.
There is the copilot looking back and making sure no luggage gets lost, kudos for him! Helmet versions will be made.
The belt loader will have many rising positions due all the small cross bars located under the belt. Driver figure is on the works. I think it would be ideal to add another figure standing and actioning the belt.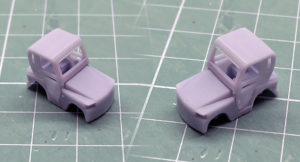 I finally made the cab for the JST-25, since the cab will require of the acetate sheet, I may separate the two models, one without and the other with cab.
That is all for now, still a lot of work to do… I keep in mind the catering model, the FMC15i loader, the hydrant dispenser, and other accessories I want to make (never forgetting the 1/12 B737 cockpit). I am also going to be doing tests on the 1/144 airliner parts such as the A350 and A320 sharklets, the WiFi radome and will begin working on the 1/200 detailed landing gears for the Hasegawa kits, starting with the B767.
I am also considering providing decals of most airlines in different sizes so that you can add these to any GSE model you wish. For example, in the previous belt loader, Swissport and Ground force were included, but I may create several decals of several airlines/services at different sizes, from 3 to 8mm approximately so  that you can have more freedom to create your desired scenario, these would be available separately since it would be a mess for me to add the options on every single GSE. This is something I am still thinking about and will probably end up doing.
Thank you all for the patience and for the time spent reading these long entries.
Wish you all a beautiful Sunday,
Guillem