Hello everyone,
I will try to not to extend myself too much on regards the virus since I believe everybody knows what is going on with it. However, I have to say that the state of alarm declared in Spain about 15 days ago has been prolonged for another 15 days as a safety measure, in fact, the peak will be reached within this week most probably. So this translated to the fact that I still can't ship orders and I prefer not to do so because of the reasons I have explained in the previous entry.
Now on regards the projects, I am currently making units of the GSE but at the same time I am testing new items  that I would like to release once all these things can get better, the items that I will be releasing once things go back to normal are:
A brand new modeled LEAP 1A engine for the A320/321 family, these engines are going to be more accurate than the first release for the simple fact that I worked directly on top of real reference photos and blueprints for the measurements. It is 3D produced but it will be casted in polyurethane resin like the previous ones. At initial idea, the fanblades will be PE made.
A350 Sharklets based on the geometry of the A350.
1/200 GSE models; at first I will be releasing the towbarless pushback AST-1 F 600 as well as the GPU Houchin C690. I am currently still testing things because I want to make parts as detailed as possible within the capabilities, so I am glad to say that the pushback will have solid driving mirrors, and by that I mean, no flat PE except for the same parts as its bigger 1/144 brother. Elements such as the cones, fire extinguisher and rear signals will be included as well.
The cabin will be solid, this is something that I feel a bit forced to do, reason being that there won't be much detail inside due the size, so I do not know if at this point it will just be better to use a photorealistic decal for the windshields. It is something I haven't fully decided yet, but I am taking into consideration that this is just not for me, other modelers will have to assembly it, so I also have to do things in a way that can be assemblyable.
Here is a very (and I mean a very) early photo of the progress: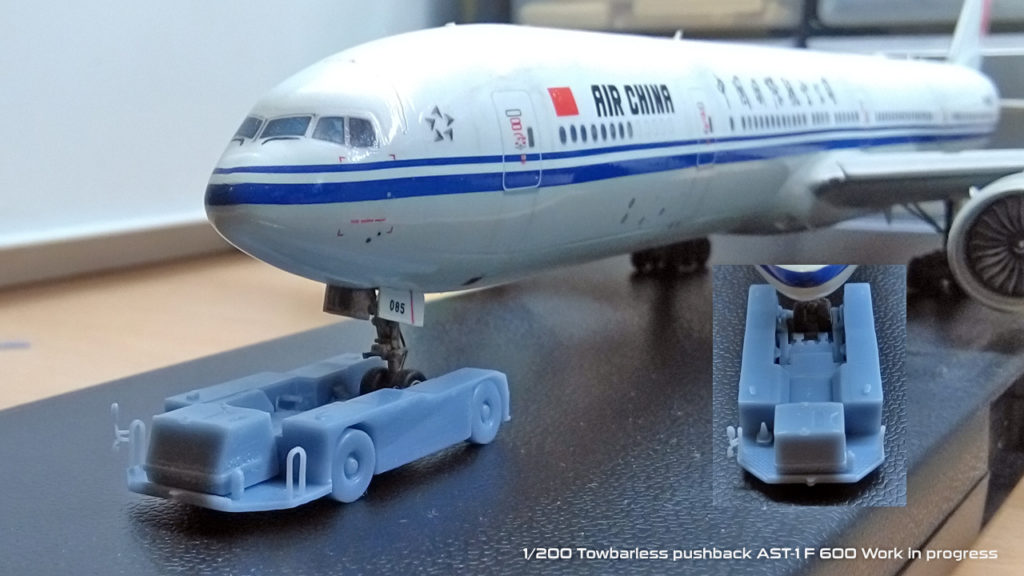 I am also working on the B737 cockpit, I must say that I hate to show renders of that thing without it being something physical yet, but I just wanted to let you see how is the progress so far, and yes, everything has been redone and yes, there  is a lot of work to do and to modify on the sidewall and the union with the main panel.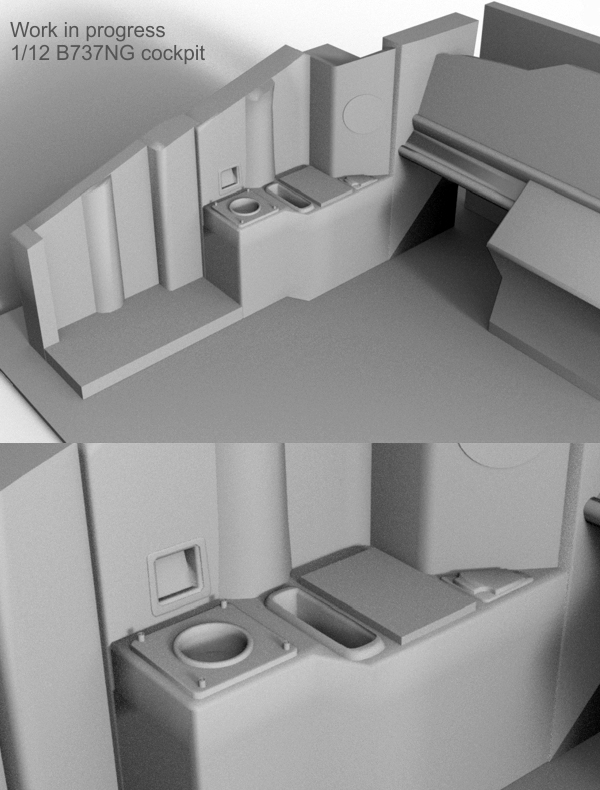 The cockpit is in a very, very early stage as you can see, and many things have to be finetuned at this point.
That is all for now, I am making units of the 1/144 GSE although it takes some time because as I said, things are quite different now with the problem we are dealing with, but I progress as much as I can.
Best wishes,
Guillem