Good Sunday everyone,
In a scale of 0 to 10 my current stress level is at 12, not feeling too happy neither, could it be the spring coming.
I must admit that I am struggling to keep items in stock, cast those tiny parts and then prepare/clean them takes time, it is not just take them out of the mold and put them in bags.
However, I go step by step because it is the only way to not to drive oneself crazy. During the next week I expect to upload the 1/144 AST-1, A320 galleys/cargo holds, belt loaders, a couple GPU, A319, A320, A321 sharklets, WiFi antenna radome and hope to start casting more baggage carts and catering trucks. PW Neo engines are on hold once I finish the LEAP ones for a multiple mold casting since the current mold said "I give up".
As you may have noticed I am not good at keeping decals in stock neither. I am currently awaiting more material and also working on new liveries, A320Neo (PW) China Southern and would like to start a few Frontier A320Neo (LEAP) as I feel there is a progress on these engines currently and would like to work on LEAP liveries as well.
I wish that I could get material and have some margin to not to end up with 0 papers to print on, most of the decal sets takes almost two A4 size papers and I guess I am still learning about keeping enough material.
In any case and leaving aside how I am feeling lately, I would like to upload a few photos of the progress done so far on the LEAP engines, A350 new sharklets (this was started a long ago) and the tiny process on the cargo deck.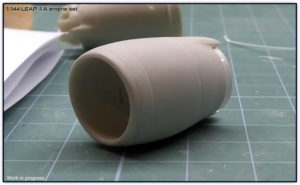 Do not think too much about the upper flap on the engine cowling, I will probably take that away when placing the pylons and re work it again on top of both areas.
I will also fix a few things around the final section of the cowling, fix the shape a little bit. So next step will be to cast the second master part and add the left and right pylons.
As for the A350 new sharklets, I am currently polishing them and fine tuning a few things, my goal is to have decals available for them so customer can chose which airline goes with these resin sharklets (or none).
The tiny progress I was able to do with the 747-8F/-400F deck project is this: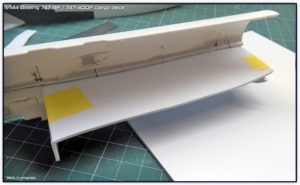 The final portion of the deck is being fitted, fits well on the right side, but a lot of work to do on the left side. I would like to dedicate a whole weekend to work on this because I want to keep things moving.
I wish I could feel more motivated, I guess there are too many things I am doing and I don't have spirit for all of them to work on simultaneously, this and other things are putting me down for a while, will try to keep things in order to work better and be more optimistic.
Best wishes,
Guillem