Hello all,
I am writing this entry to let you know of the process on the stock making of these new GSE items. The day I said I was going to release these by the end of November, I probably wasn't thinking this carefully enough.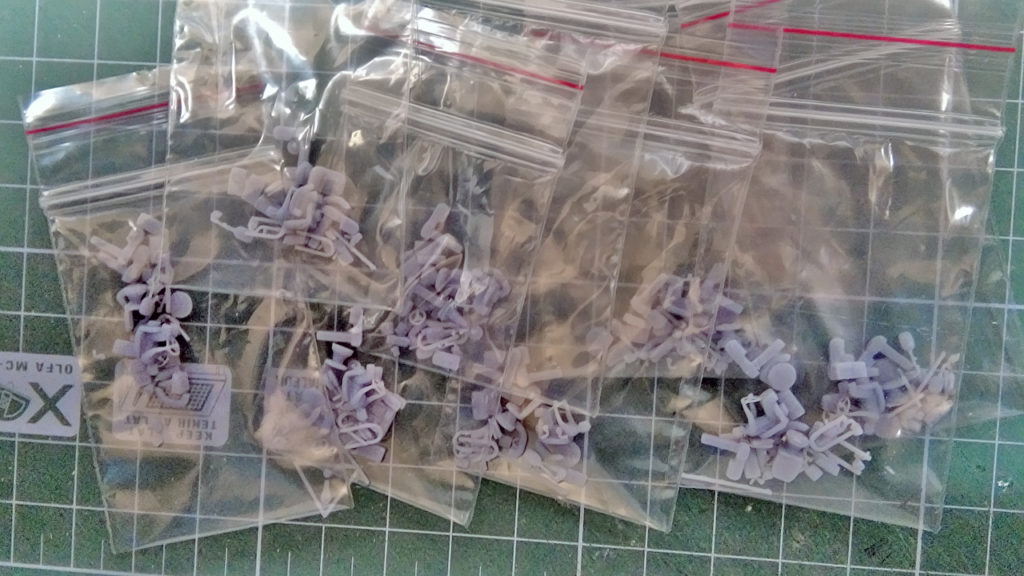 I am literally cutting hundreds of parts to prepare these units and packaging them very carefully to make sure nothing is left, so once I bag parts of a particular item, I do it in its entirely to make sure each bag has the same number of parts.
The AST-1 F600 has around 40 parts, I currently prepared 10 sets, so that is a total of 400 parts bagged. It really is not that time consuming, but considering that stock has to be made of all items, that is what takes me most of the time, if it was re stocking an out of stock item, it would be quicker, but it is the entire catalogue (and some other new items) I am re stocking.
As I said in my previous entry, I am starting with the models that have more parts, so smaller items such as the baggage carts or trolleys will not take that long.
The reason for providing the kits this way is for a very fundamental reason, cutting the parts out of the base to be assembled on the model is something very delicate, I break one while doing so; I have spares, I can also make them again, so what I want to do with this is to leave the items ready to be assembled, this also saves on weight which translates on saving shipping prices and the time to do this is not that much consuming if we think of restocking a couple items, again making the entire catalogue is what is taking me that long time.
This weekend I am starting to bag the belt loader parts, hopefully I can keep up working at full speed every day and have them ready soon.
Thank you all for reading and for the patience, in between stock making and bagging these parts, I am also working on new items, I have done a first test with a retractable passenger stairs for which I plan to make a collection of figures later on.
Wish you all a nice weekend,
Guillem