Hello everyone,
Yes, I am still here, spending the days working on the stock units, new items and hopefully, being able to complete a few other models for product page examples soon.
Today I wanted to say a couple things; first of all, I wish everyone wonderful holidays, it is time of being home with the warmth of the family, or on a nice trip, very soon time to say goodbye to this year, and pass page again for the next one.
Now, on regards the units, how are these? when they will be released? Things are progressing, I really can't go any faster than this, something I thought would be ready at the end of November is taking me so long that I have to move my hopefully new release date to January next year.
Products are still being packed, PE is being made, had lots of troubles to make it again since I changed a few things such as the UV source and that altered the whole process.
In any case, work is continuing on, I have started to take the final product photos which you can see some examples below, and a bonus model I wanted to comment about: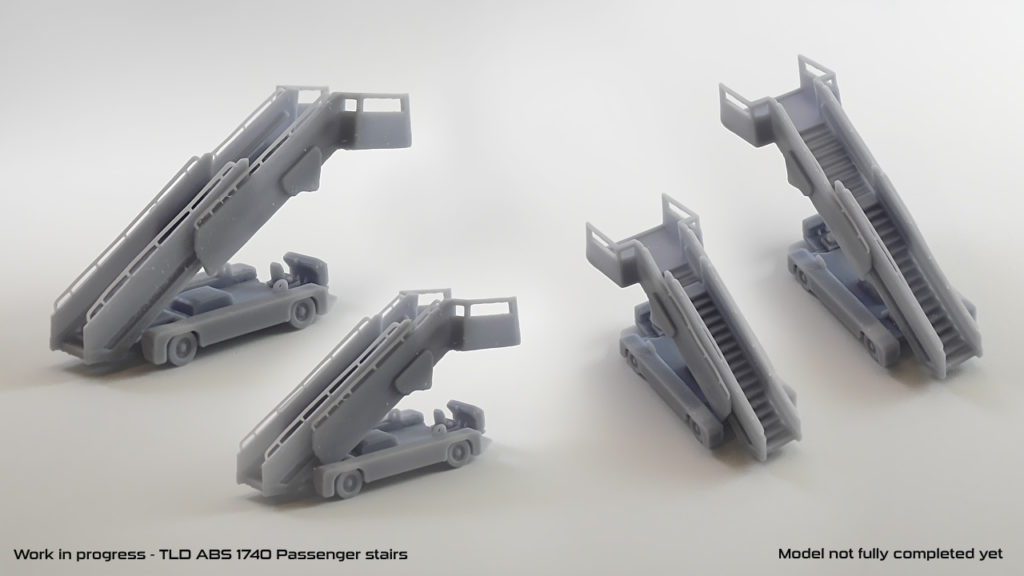 It is a (at the moment 1/144) passenger stairs. It is adjustable and it is based on the TLD ABS 1740 model. It will fit from an A320 to a B777 door heights, which is basically a quite wide range of aircrafts. I also plan on creating figures, and a set I have in mind is going to be specifically created to fit and be used on these stairs.
Now on regards product photos,  there is nothing new as everything has yet been covered, but since work is continuing on and I don't have much else to show, here are a few images:
More progress is continuing, once I have a bit more to share, I will, in the meanwhile, wish all of you can have all the love and time of your beloved ones in these special days!
Best wishes,
Guillem