Hello everyone,
Today is a very special day to me because after all these months I have finally completed the main design of the B747-8F (later the -400F) in 1/144 scale.
As a reminder, all that you see in the renders is meant to be used in conjunction with the Revell model kits, an 8i or 8F kit will work, since the engines, wings, landing gear, horizontal / vertical stabilizers and tail cone will be needed.
Two things to mention about this finished state:
Although the main design is completed, some other bits will be made such as fire extinguisher, oxygen masks etc.
I may be adding further detail to the entry door frame as well as add padding inside the nose door.
It has been a long journey for this design to be completed; from having to double the RAM memory of my PC to having to deal with errors right at the end of the stage.
For days I was wondering if I could manage to overcome this error and once I did, I was able to add more detail inside the fuselage which was the remaining work that I had to do.
In the end I also decided to try with clear parts, after finding the right materials for the cockpit shell, I decided to have the fuselage windows and ports to be transparent, as well as the entry and side cargo door windows. A painting mask will be provided for all the clear parts.
For a very long time this project helped me to cope with a sudden change in my life to which I had to get used to, so it feels like a chapter has ended somehow.
Now, the final renders, first with lines that highlight the details: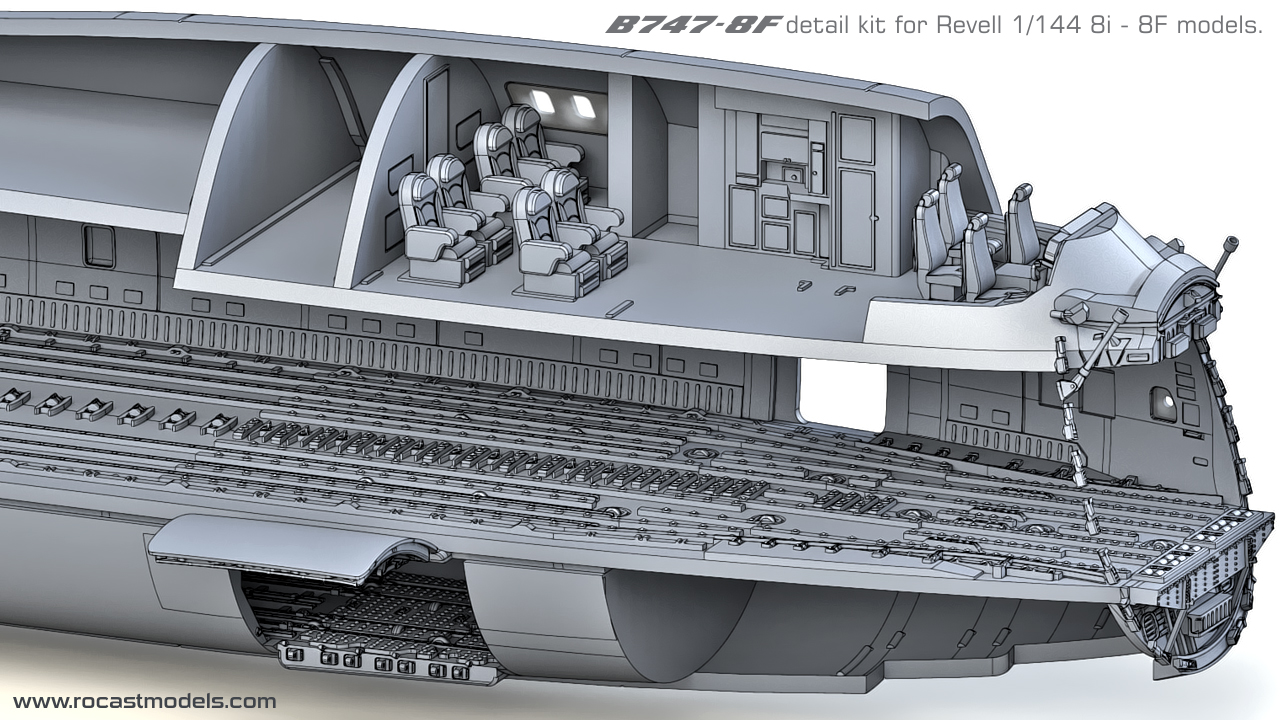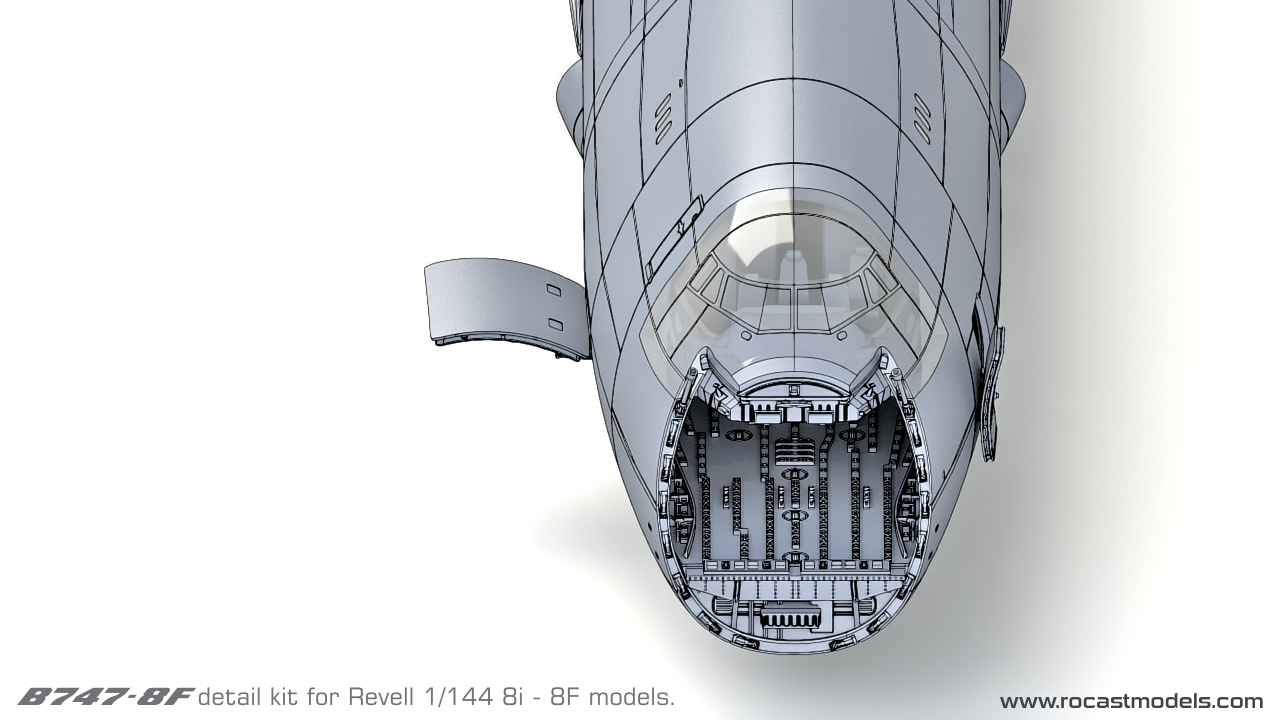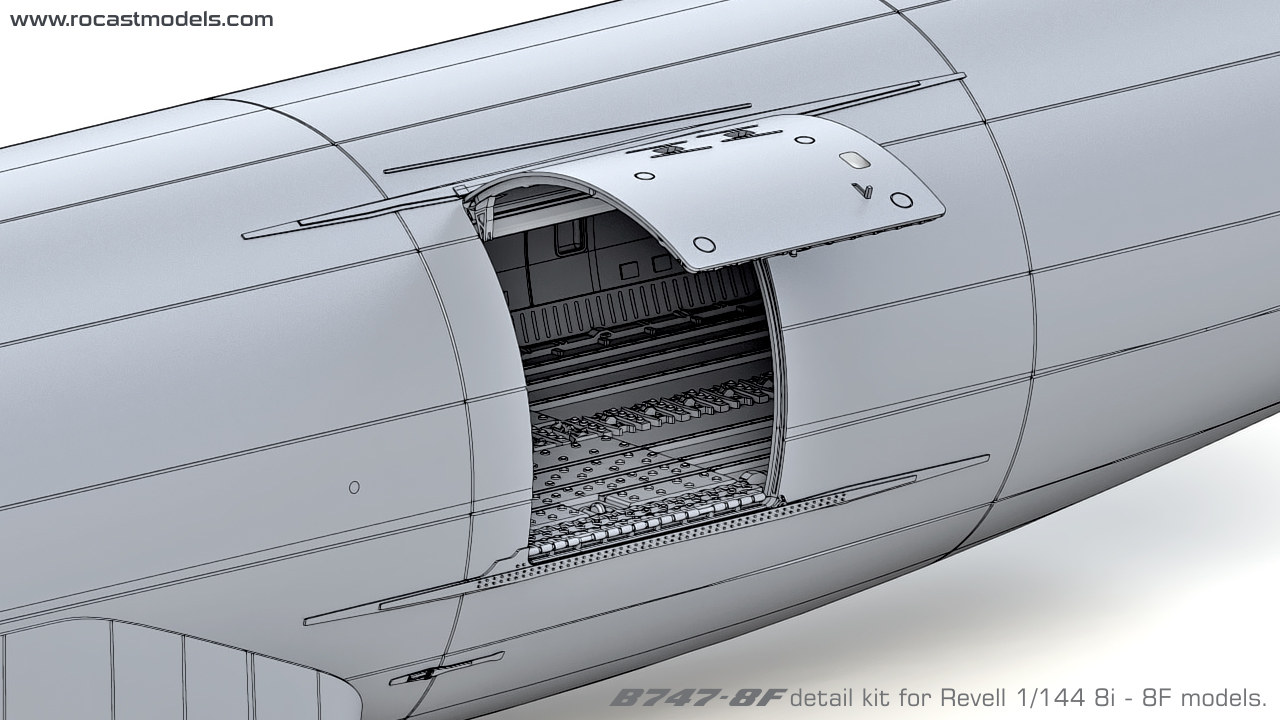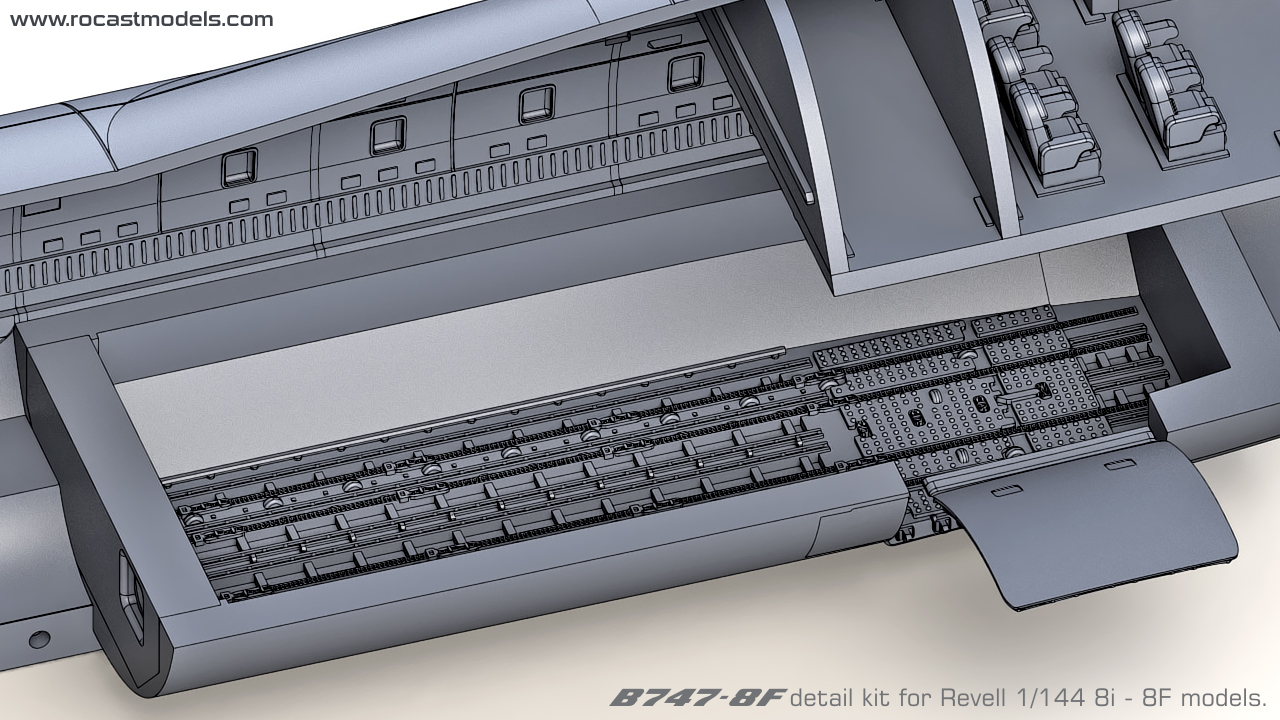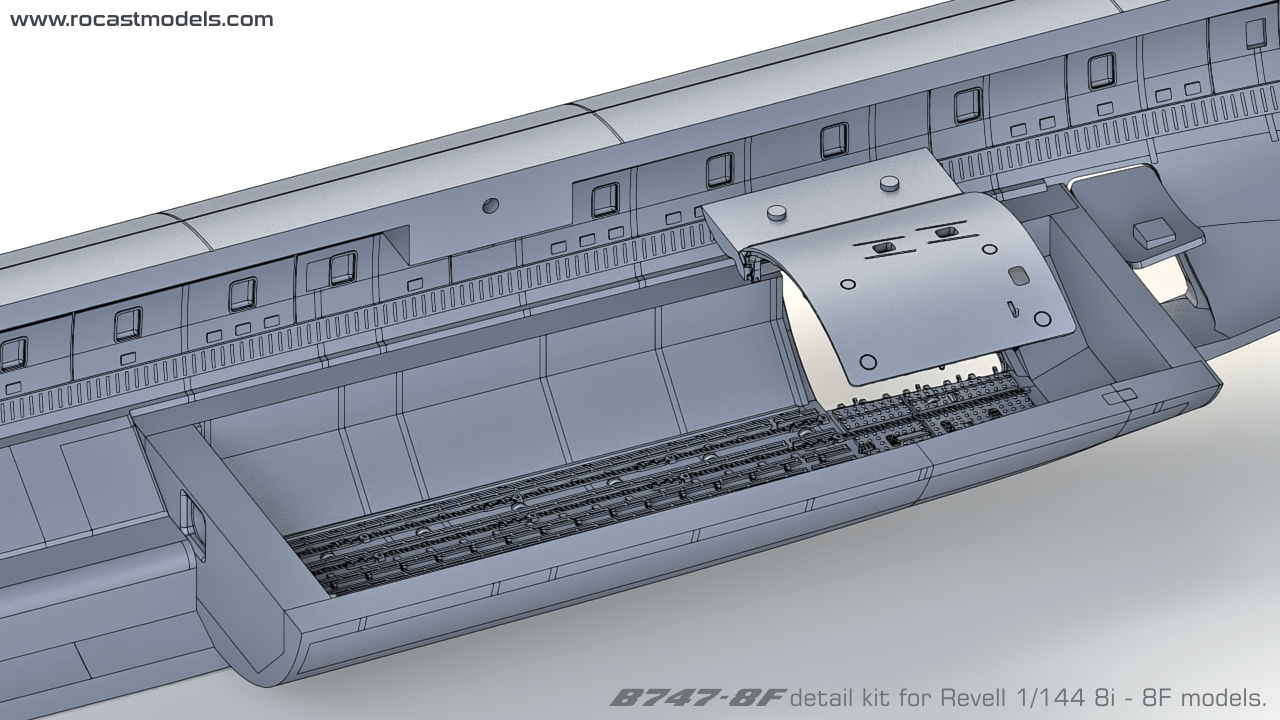 Without drawing lines: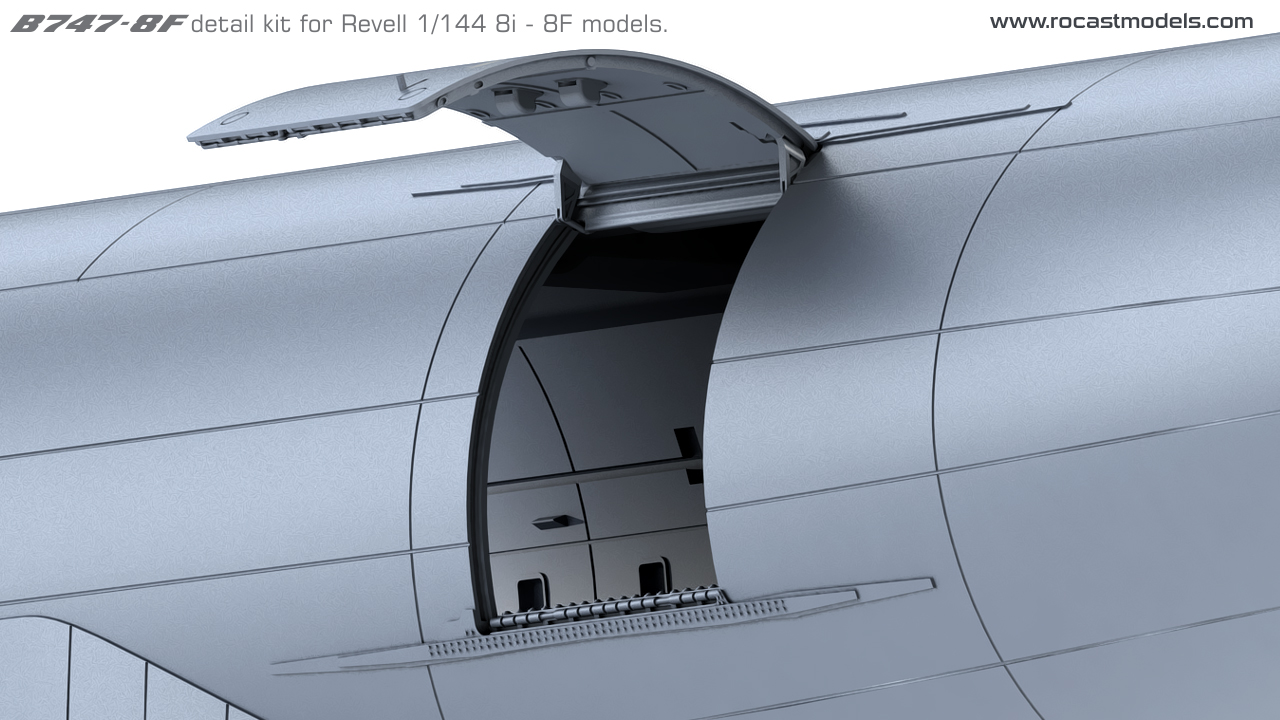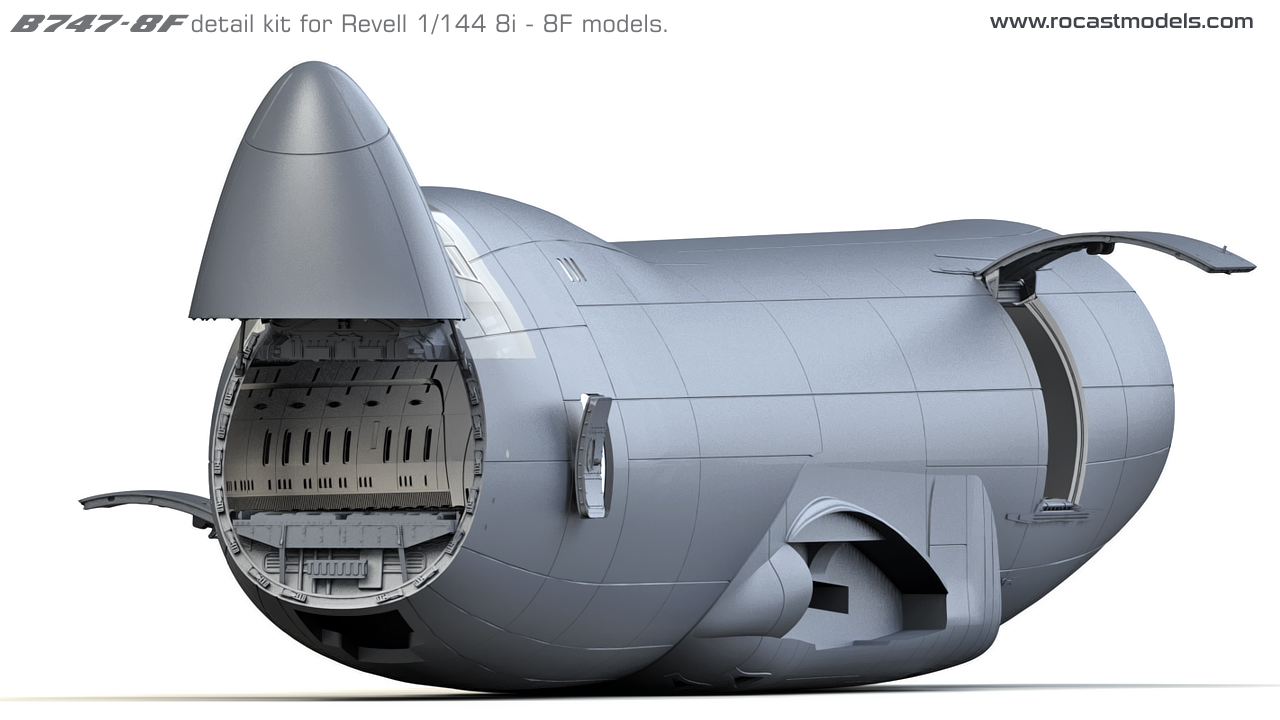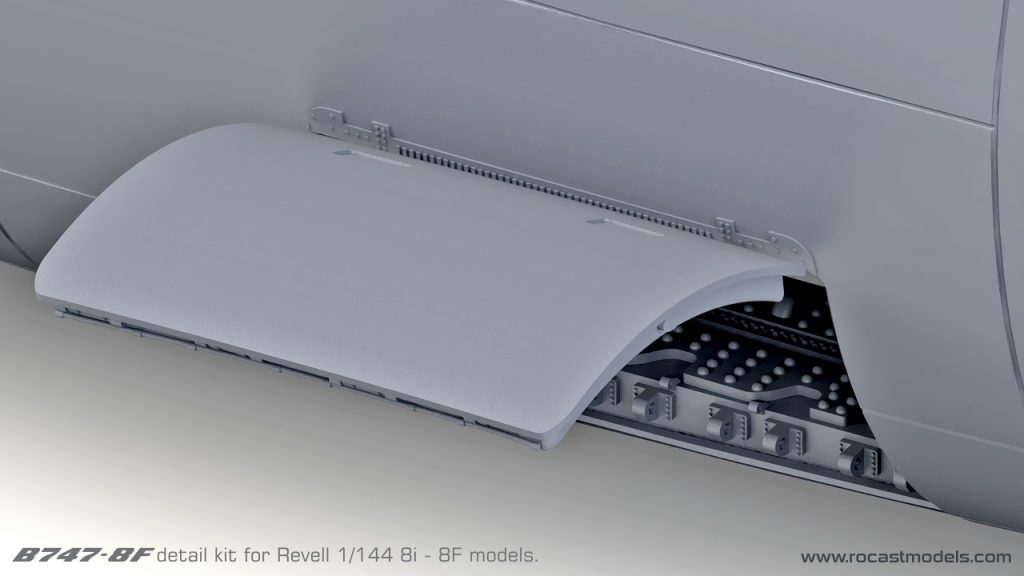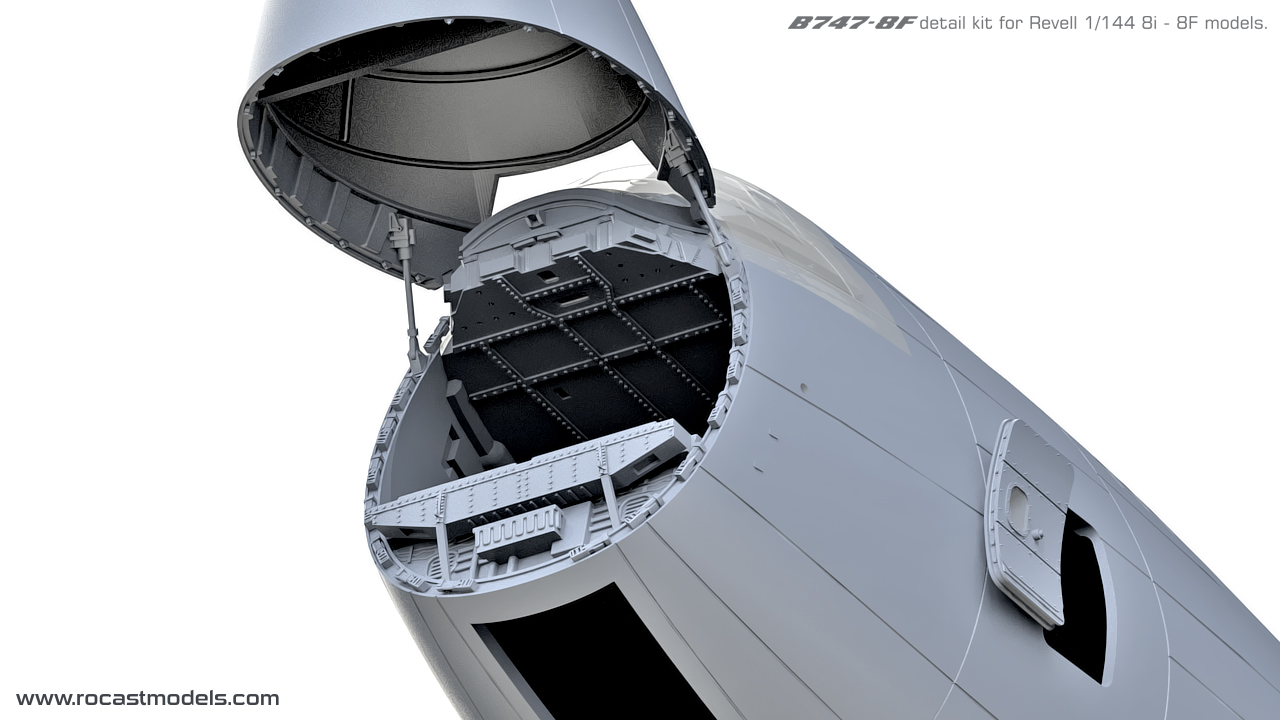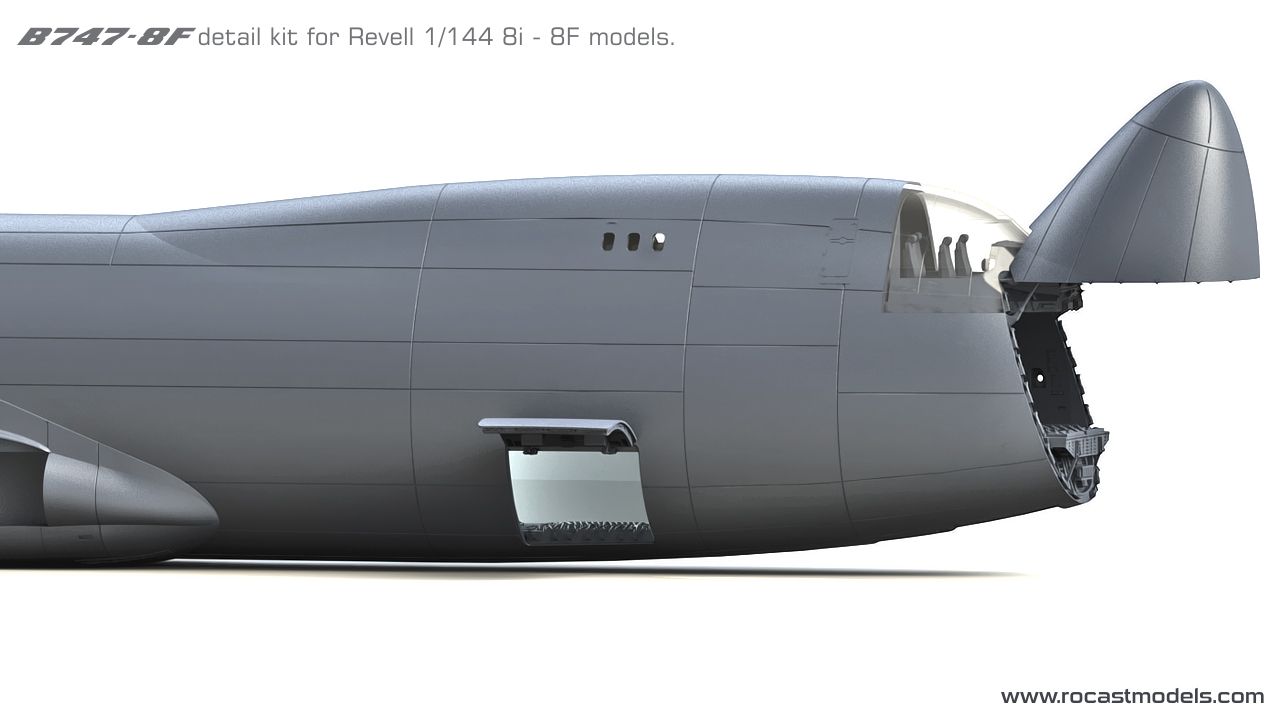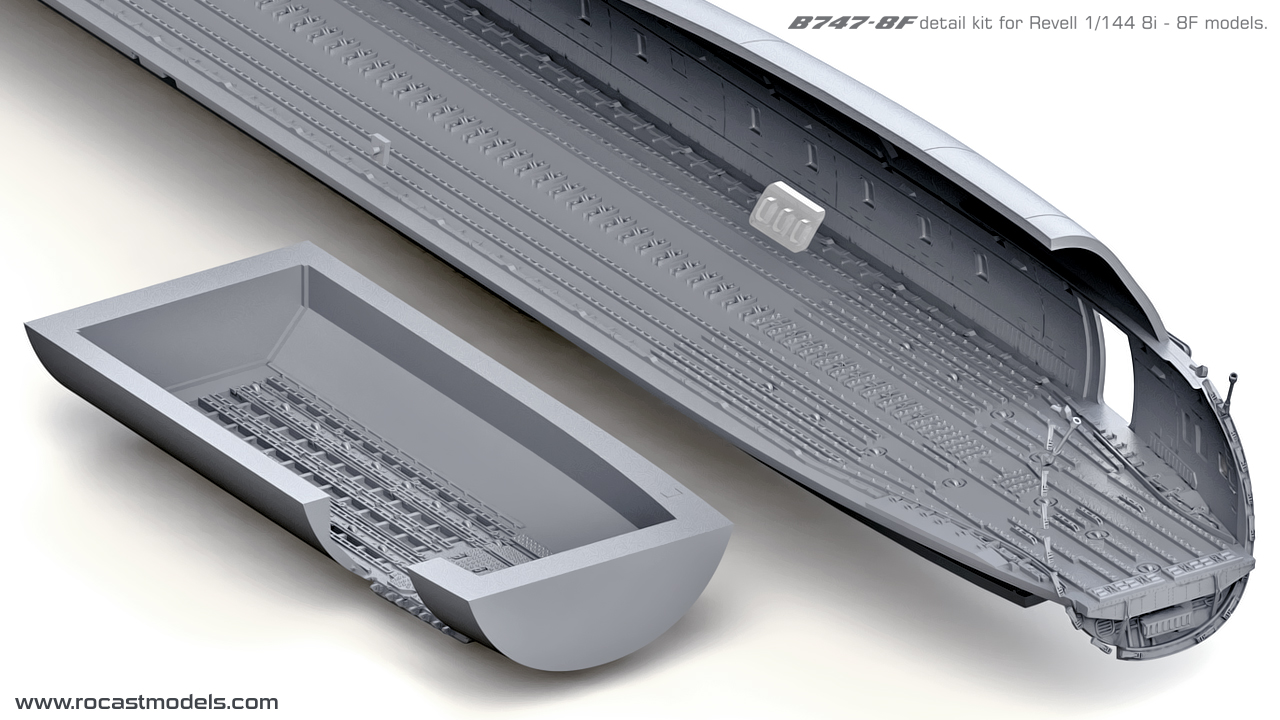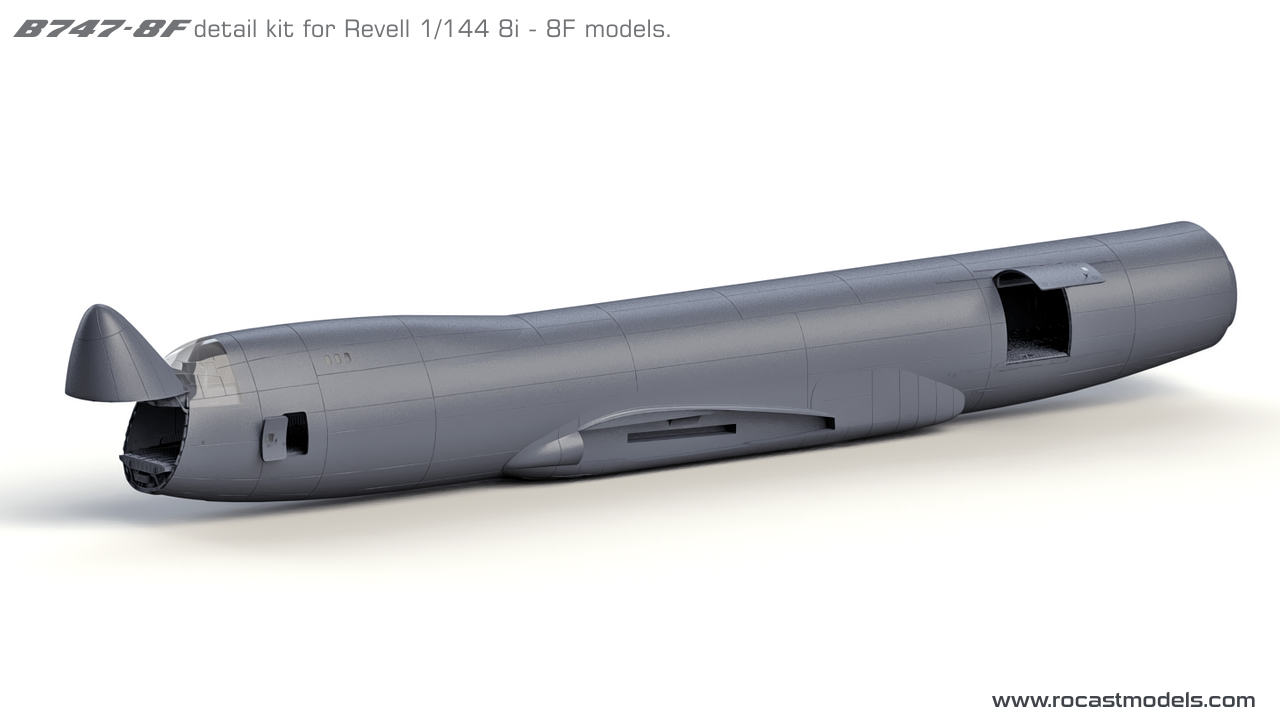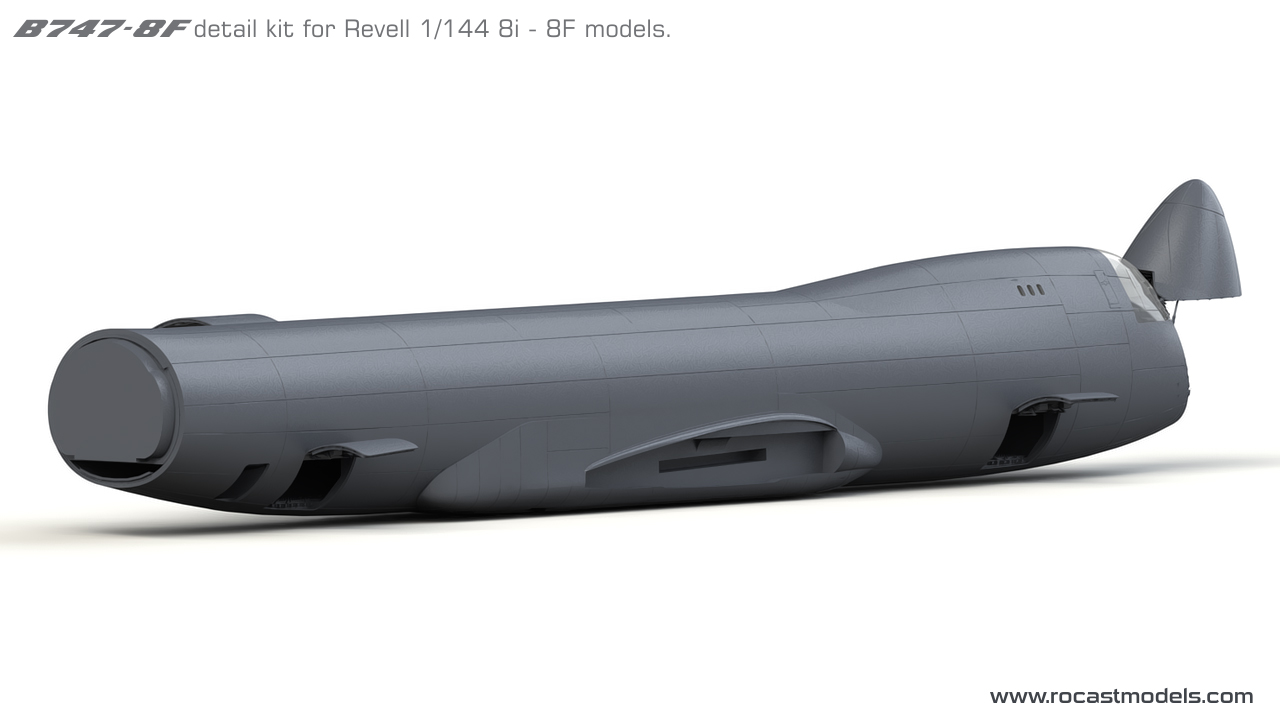 The model on top of a scaled cutting mat for dimension reference: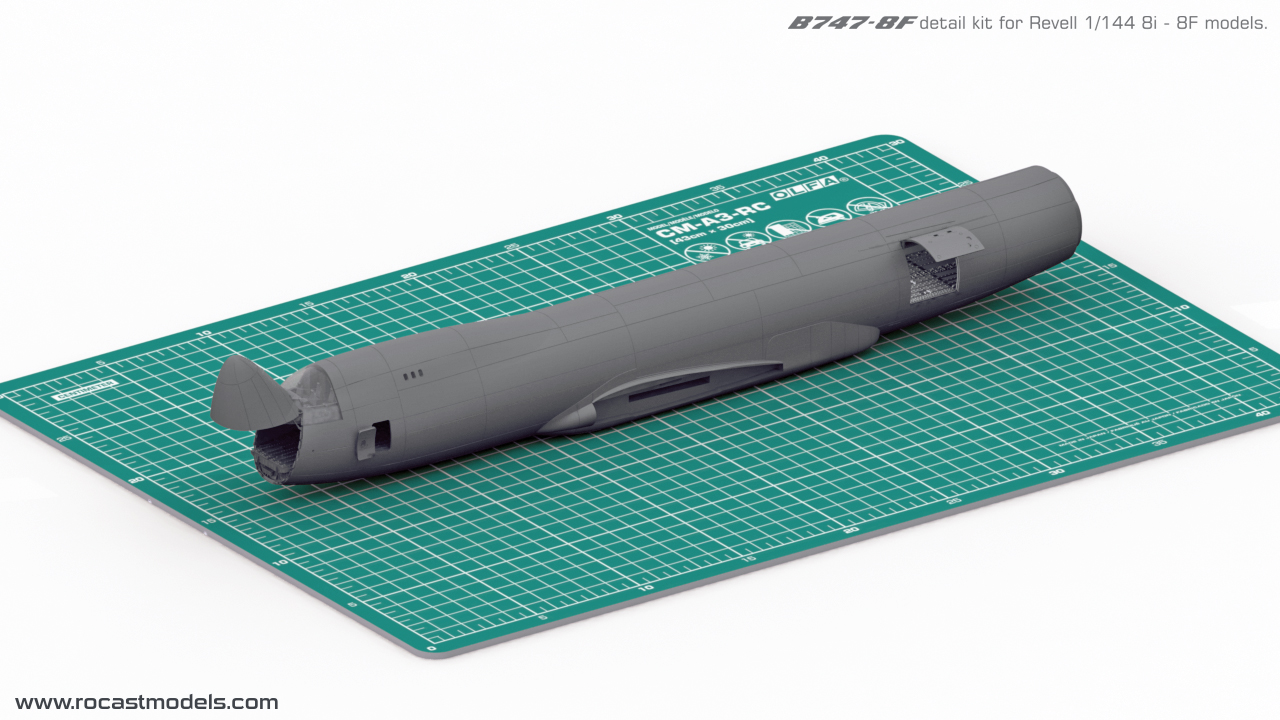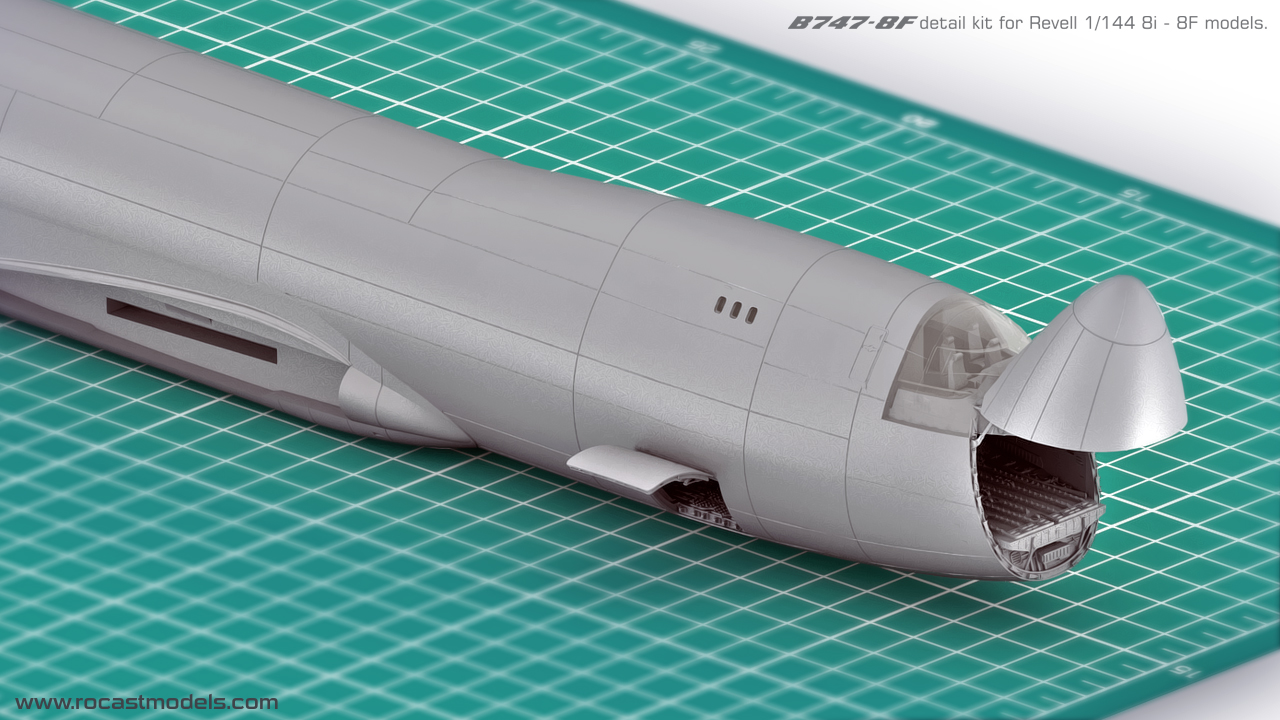 Update: Gutter was added to L1 door.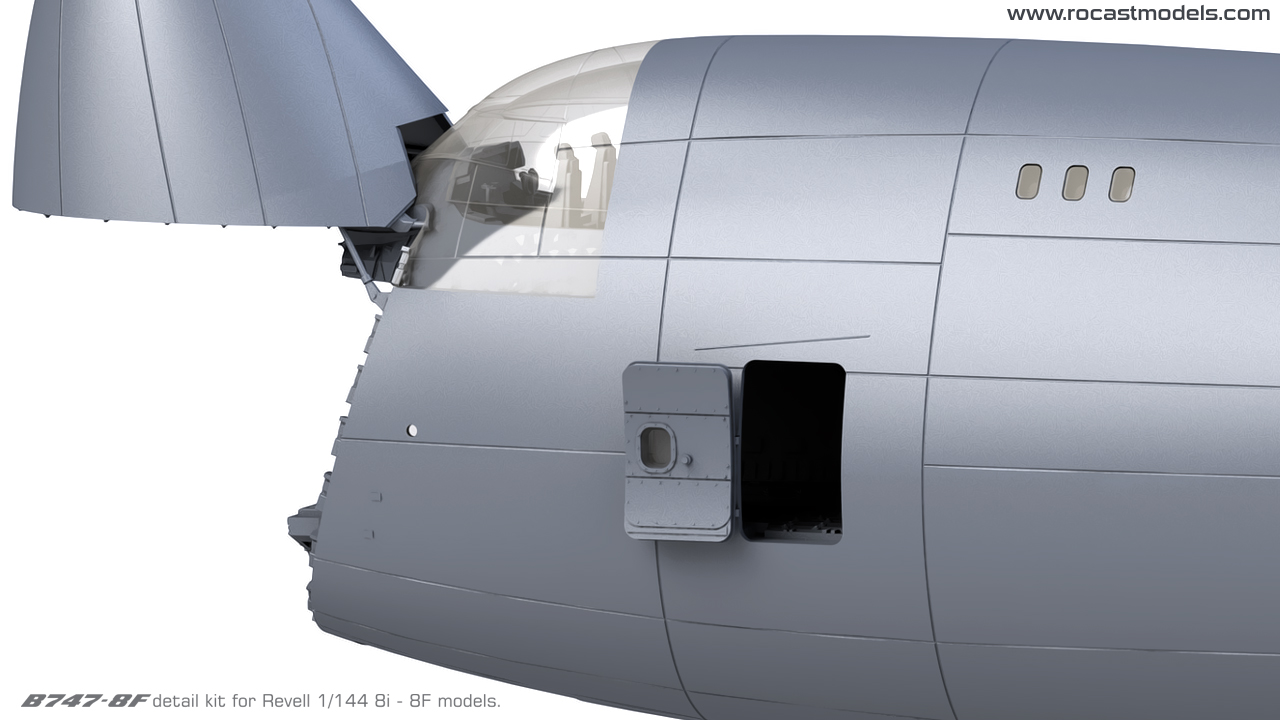 Although the main design is completed, there is still a lot of work to do:
I need to cut the fuselage and the main deck to be able to print them and properly produce them later on. However, I will prepare a fit-in design so that there are no misalignments when joining those parts.
Photo etch will be used for some specific details which I still have to design. Ladder, nose door upper "flaps", light panel frames, etc.
LED's schematics was done so now I have to try the real deal, especially the optic fiber wires. There will be one LED for each cargo hold located at the corner where sight cannot reach, these LEDs will be used to create ambient light.
There will be another ambient LED at the main ceiling to ambient the whole main deck.
Two LEDs to supply light to the optic fiber cables for each side of the fuselage.
Lastly, a small LED will be allocated at the upper deck ceiling to ambient the whole upper deck/cockpit.
Decals: I am afraid I may not be on time to make these detail decals (for the inside of the fuselage/upper deck) in silk screen since this is still at a very early stage for me, I may need to provide them laser printed which I don't think will be a very big problem since most decals will be dark colored.
Instructions and first test build: this will be for sure the second stage to take me most of the time. I want to have a first test model to test all the fittings for each part I make and then a final model completed for which I plan to make a series of videos that hopefully will help alongside the instructions.
This detail kit will consist of around 85 parts which will probably be extended to around 90. This will be my biggest project to date, so I am putting all my energies into it.
Currently, my new printer is inoperative, so I can't print parts for this project nor the 1/200 GSE, but I hope to do so once things get solved with tech support, as it appears, I've got a faulty unit.
At the moment this 747 freighter project is taking me most of my time, so although there are many other things I want to do, I feel that I must advance with this so that I don't lose track of it.
Now that the main design is completed, I may do a few other things in order to have a small "rest" from this before I can actually start the printing test phase again.
The 1/12 B737 cockpit project will resume once I am at the test fitting stage for this 747. This project will be even larger than the 747-8F/-400F so I need to be able to switch from on to another once the 747 is more advanced.
As I mentioned, I will be working on smaller things in the meantime; GSE/Figures, items related to the cargo scene. I do not have a "to do" list, but the fuel truck/hydrant truck has been requested several times so this one is also a project for this year.
Thank you all for your support and I really hope you will like this project so far.
Best wishes,
Guillem